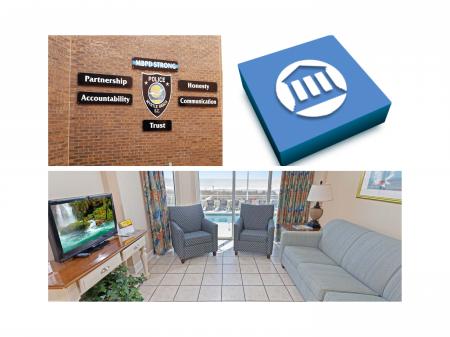 By: Todd Bartley
News@TalkWilliamsport.com
Talkwilliamsport.com in reviewing the March 2, 2021 WASD school board meeting agenda; came across what could be the first step taken in acknowledging the Myrtle Beach "victims" with a new policy being adopted.
The proposed policy is titled "Discipline of Student Convicted/Adjudicated of Sexual Assault".
Under section number #6 and labeled "BOARD POLICY" and "Questions may be directed to Dr. Bowers"; the proposed policy reads as follows:
BOARD POLICY
Questions may be directed to Dr. Bowers.
6.1 Consider approving the first reading of new policy 218.3
"Discipline of Student Convicted/Adjudicated of Sexual Assault"
of the Williamsport Area School District Board policy
based on new School Code section 24 P.S. 1318.1, and renumbering of current Board policy on
"Gangs" to 218.4 as a clerical revision to align with PSBA recommended numbering system.
The proposed policy arrives little more than two weeks after the bombshell report published on February 15, 2021 by TalkWilliamsport.com; "BREAKING NEWS: WAHS student criminally charged by South Carolina authorities in 2018 baseball team incident."
TalkWilliamsport.com researched and found a School Law Bullets article on the legislation noted addressed by the KingSpry's Education Law Practice Group website titled, "Public School Code Revision Requires Separation of Perpetrators and Victims of Sexual Assaults."
"Senator Martin, the law's sponsor, stated the goal of the law is to ensure that victims of sexual assault do not have to uproot their own education and social networks to avoid contact with an abuser."
"The requirements of the Act go into effect on January 12, 2021.
The law applies to school districts, career and technical schools, intermediate units,
and charter schools."
The time period between January 12, 2021 and March 2, 2021 is 50 days.
The WASD school board is taking 22 days longer to adopt a policy that is actually codified into law than the "WASD Anti-Racism Board Resolution" championed by and read into the record by WASD board member Jennifer Lake; in the aftermath of the death of George Floyd last year.
The school board meeting agenda for March 2, 2021 makes no mention of Jennifer Lake or any other board member volunteering to read the proposed policy into the record.
BACKGROUND:
The Juvenile Act was adopted into law by the Juvenile Court Judges' Commission, Commonwealth of Pennsylvania in January 2008.
The Myrtle Beach incidents occurred during the 2018 WAHS baseball team trip as chronicled in the TalkWilliamsport.com series; "A Baseball Story In The Birthplace Of Little League Baseball" – PART XXV
The WASD school board will also be addressing the resignation of fellow board member Marc Schefsky as TalkWilliamsport.com exclusively reported earlier this week; "BREAKING NEWS: Marc Schefsky resigning from school board after WASD residency questioned."
This is a developing story on TalkWilliamsport.com.