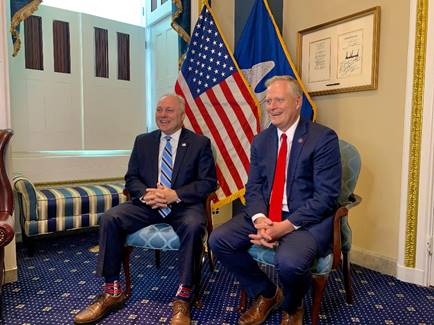 Whip Scalise and Congressman Keller discuss energy priorities during the Think About Energy webinar.
Washington, D.C. – Congressman Fred Keller (R-PA) today joined House Republican Whip Steve Scalise (R-LA) for a webinar hosted by Cabot Oil & Gas to discuss current and proposed energy policies and weigh in on America's domestic energy sector.
Whip Scalise opened the event with remarks highlighting House Republicans' energy priorities, noting the importance of an all-of-the-above American energy approach and of harnessing our nation's resources to produce clean, affordable, and reliable energy.
Congressman Keller followed up with insights on the positive impact that American energy independence has had on central and northeastern Pennsylvania. Thanks to domestic energy, Pennsylvania's statewide energy sector now sustains more than 300,000 jobs, pays more than $23 billion in wages, contributes $45 billion to the commonwealth's economy, and saves the average household $1,100 annually in energy costs.
On the event, Congressman Keller made the following statement:
"I was proud to join Whip Scalise today for a productive, energy-focused webinar hosted by Cabot Oil & Gas. America's domestic energy has far-reaching implications for every sector of our economy. Energy producers have been outstanding partners in central and northeastern Pennsylvania, investing in local communities and generating countless downstream job opportunities. In order to sustain good-paying jobs, create prosperity for future generations, and secure American interests around the globe, we must reject and counteract policies that place a higher premium on appeasing the radical left than protecting the future of America's energy sector."
Republican Whip Steve Scalise:
"It was a pleasure to join Cabot Oil & Gas for today's 'Think About Energy' webinar alongside Representative Keller. Our two districts demonstrate how an all-of-the-above American energy strategy has propelled our nation to be energy dominant and allowed our economy to thrive. The truth is that the Democrats don't want to see the hardworking men and women of the Gulf and Marcellus Shale oil and gas industry succeed. Their socialist green agenda will leave American families and workers hurting and our country dependent on unreliable and unfriendly nations for energy. Instead of attempting to end American oil and natural gas production, we should embrace and utilize our abundant, affordable, and clean energy resources."
George Stark, Director of External Affairs for Cabot Oil & Gas Corporation and moderator of the webinar:
"The state of Pennsylvania, as well as our nation as a whole, has an abundance of natural resources. This abundance gives us plenty to discuss, and it's important to bring energy advocates and policy makers together to further the industry." 
Whip Scalise is the leader of the House Energy Action Team (HEAT), of which Congressman Keller is also a member. HEAT is a coalition of House Republicans representing districts with significant energy infrastructure. Its mission is to promote energy policies that will address rising energy prices, create family-sustaining energy jobs, and enhance our national security by promoting American energy independence.
The full webinar is available here.