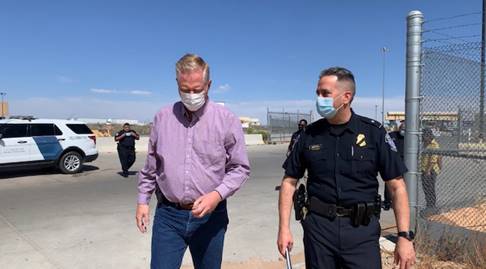 Joins Oversight and Reform Committee Republicans in calling on Chairwoman Maloney to act
Washington, D.C. – This week, Congressman Fred Keller (R-PA) and House Oversight and Reform Committee Republicans sent a third letter to Chairwoman Carolyn Maloney (D-NY) demanding a hearing to address the growing crisis at the southern border. According to the U.S. Border Patrol, there were 178,622 border encounters in April alone, marking a 20-year high in illegal border crossings.
"As we noted in our previous letter, this Committee held multiple hearings during the Trump administration on the treatment of children at the border," the letter to Maloney reads. "It is surprising that you have failed to schedule a hearing during the current border crisis created by the Biden administration, especially as conditions continue to deteriorate and more and more taxpayer funds are required. Even as you remain silent, members of your own party in both the Senate and the House have decried the Biden Administration's response to the border crisis."
On the House Oversight and Reform Committee's letter, Congressman Fred Keller made the following statement:
"In April, I traveled to the southern border and was stunned by the scope of the humanitarian and national security crisis unfolding due to the Biden administration's detrimental immigration policies like halting border wall construction, ending the 'remain in Mexico' policy, and functionally abolishing ICE. Now more than 50 days since my trip, the border crisis continues to worsen by the day as Vice President Harris—tapped by President Biden to lead the administration's border efforts—has made no attempt to witness the crisis for herself. I urge Chairwoman Maloney to hold a hearing so we can get a clear answer from the Biden administration on what it plans to do to get this crisis under control."
Read the full letter here.