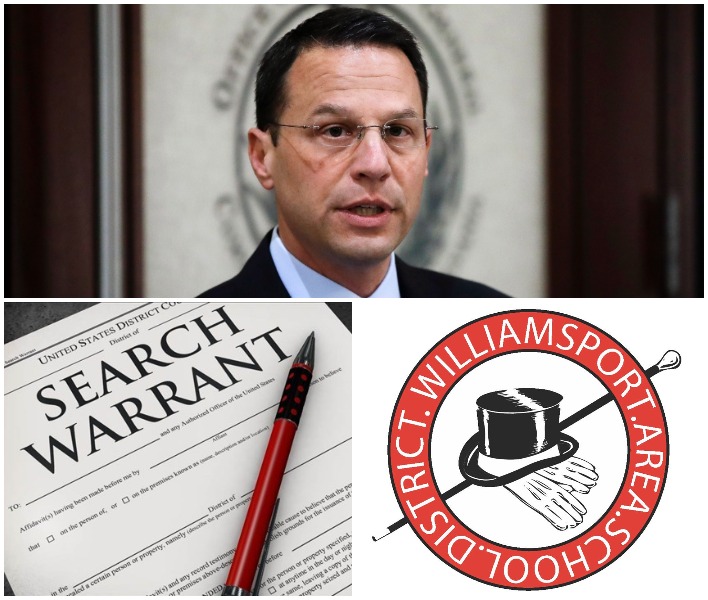 TalkWilliamsport.com has confirmed the office of Pennsylvania Attorney General Josh Shapiro has issued search warrants in the Williamsport Area School District "Criminal Sexual Misconduct" case.
The case was referred by Lycoming County District Attorney Ryan Gardner to Shapiro earlier this year.
On background, the referral stemmed from an incident on the WAHS baseball team trip to Myrtle Beach in 2018.
The search warrants have been filed and signed by Lycoming County President Judge Nancy Butts.
A number of parties involved in the case have been named in the search warrants which are under seal due to the sensitive nature of the case.
According to the Cornell Law School Legal Information Institute,
"A search warrant is a warrant issued by the competent authority authorizing a police officer to search a specified place for evidence even without the occupant's consent. A search warrant is generally required for a Fourth Amendment search, subject to a few exceptions. In Katz v. United States, 389 U.S. 347 (1967), the Supreme Court held that searches conducted outside the judicial process, without prior approval are prohibited under the Fourth Amendment, with a few detailed exceptions."
On the issue of Obtaining a Search Warrant:
"Only judges and magistrates may issue search warrants. In Coolidge v. Hampshire, 403 U.S. 443 (1971), the Supreme Court held that a warrant must be issued by a "neutral and detached" judge capable of determining whether probable cause exists. To obtain a warrant, law enforcement officers must show that there is probable cause to believe a search is justified. Officers must support this showing with sworn statements (affidavits), and must describe in particularity the place they will search and the items they will seize. In Groh v. Ramirez, 540 U.S. 551 (2004), the Court held that a warrant that lacks accurate information as to what will be searched is improper, and that a search which happens pursuant to that warrant is unlawful and violates the Fourth Amendment.
In Illinois v. Gates, 462 U.S. 213 (1983), the Supreme Court held that when deciding whether to issue the warrant, a judge must must consider the totality of the circumstances, including an informant's veracity, reliability, and basis of knowledge.
When issuing a search warrant, the judge may restrict how and when the police conduct the search. In Zurcher v. Stanford Daily, 436 U.S. 547 (1978), the Supreme Court allowed the police to search a student newspaper. The newspaper was not implicated in any criminal activity, but police suspected it had photographic evidence of the identities of demonstrators who assaulted police officers. However, some jurisdictions responded by passing laws restricting or forbidding these kinds of searches, such as when California's legislature created CA Penal Code § 1524."
Regarding Warrants for Electronic Data:
"Police officers may obtain warrants to seize and search electronic storage media or electronically stored information. Since December 1, 2009, Rule 41 of the Federal Rules of Criminal Procedure governs these searches. The rules allow officers to copy seized material for later review. The new version of Rule 41 governing these searches also allows police officers to plant tracking devices on persons or property."
TalkWilliamsport.com will have more on this developing story as events unfold.