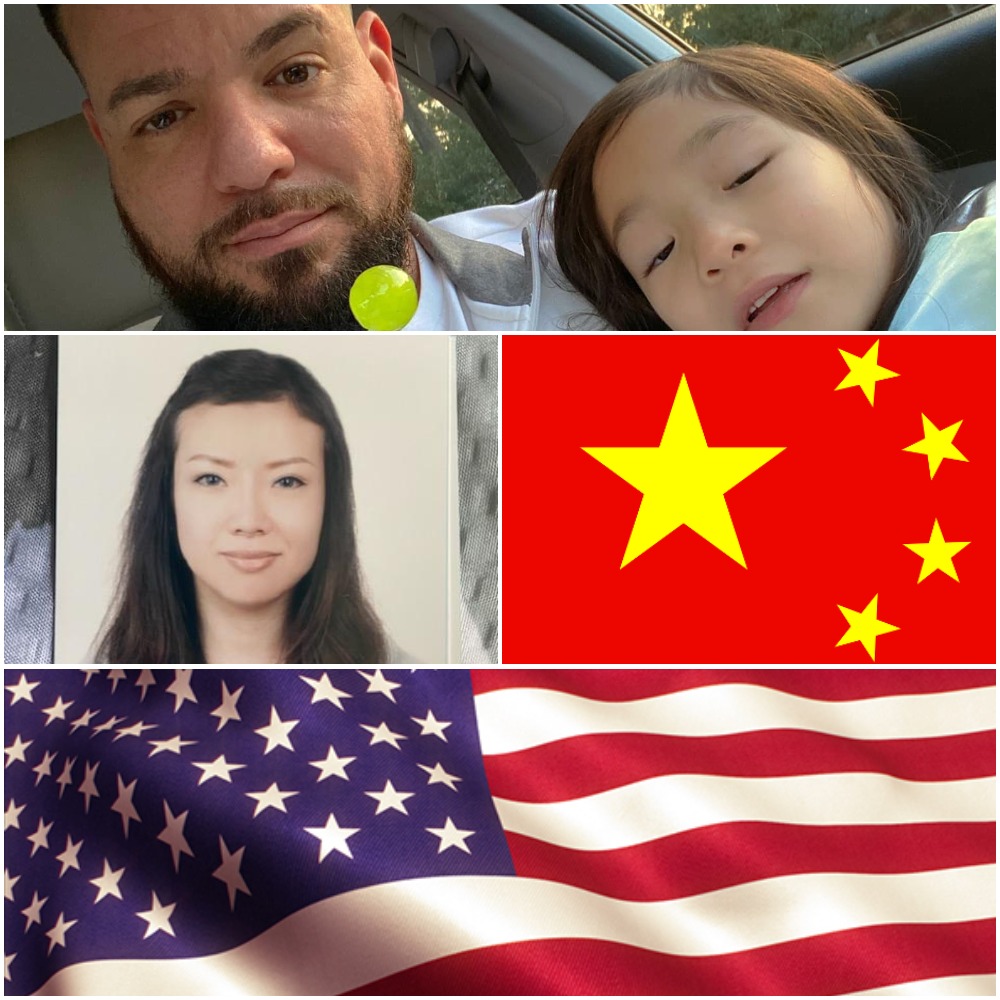 (Photos: Derek Ortiz father of Skylar Ortiz Liu (Top), Jian Liu (Left))
TODD BARTLEY, TALKWILLIAMSPORT.COM
NEWS@TALKWILLIAMSPORT.COM
For one father who served his nation faithfully, the unimaginable has happened, his daughter Skylar Ortiz Liu has been kidnapped by her mother and taken to China.
Derek Ortiz is the father of Skylar Ortiz Liu and was in the process of getting a second divorce from his wife Jian Liu and mother of Skylar when the unthinkable happened.
Jian Liu is a Chinese national and up until Labor Day weekend was residing in the United States.
It has been confirmed that Jian Liu took Skylar Ortiz Liu out of the country against her will over the 2020 Labor Day weekend.
Derek Ortiz was granted visitation to see his daughter each weekend as part of a custody agreement both parties had accepted on January 23, 2020 and signed by Cumberland County District Judge Presiding Toni S. King on January 26, 2020.
The Order issued with specific instructions by Judge King stated that Skylar "was not to leave the country."
Filed Order Review IED and Not Remove Child – Ortiz, D
However as court documents indicate Jian Liu previously violated those keeping Ortiz occupied in court with motions and additional filings.
Ortiz is represented by Attorney Angela M. Hatley; and in August of 2019 he shared his fears of his wife returning to China with his daughter.
Based on those concerns Attorney Hatley filed for emergency custody on behalf of Ortiz.
At the time of the filings in August 2019 Jian Liu had kept Skylar away from Ortiz for 42 days, contempt motions against Liu were also filed.
Contacted for this story, attorney Angela M. Hatley offered the following, 
"Mr Ortiz and his daughter are so bonded and he is such a great dad.
I pray that President Trump and those capable officials in his administration will be able to bring Skylar home to Fayetteville and her father soon.  
It is really a tragedy that a mother would be so nefarious as to remove the child from her father and this country in violation of court orders and federal and state kidnapping statutes."
On Sunday evening, September 13, 2020, Derek Ortiz sat down for an interview with this author to discuss the kidnapping of his daughter.
It is accessible by clicking here and entering Passcode: *+4mqi9a
Currently, China is a non-extradition country with the United States.
THE TIMELINE
Ortiz having not received his daughter at the prescribed time on Friday of the Labor Day holiday weekend he contacted attorney Hatley who in turn contacted counsel for Jian Liu to see if a resolution could be worked out for visitation.
Jian Liu was non-responsive to the multitude of calls and texts made by Ortiz.
Ortiz and Hatley then contacted local local law enforcement who did a wellness check on Skylar; only to find where she had been staying with her mother had been abandoned and deserted.
Ortiz was overcome with emotions.
Because it was a long holiday weekend, the next available day for the North Carolina courts was Tuesday after Labor Day.
That day, a motion for emergency custody was filed for Ortiz by Hatley.
Order_-_Emer_Custody_ds_9.11.20
The same day, Attorney Victoria Gillispie Hardin withdrew as counsel for Liu on the basis of "loss of contact" with her client.
Both motions were granted.
Derek Ortiz discovered evidence in 2019 that in 2017 while separated from his wife, she was involved in the operation of an Asian prostitution ring. At that time, those details and evidentiary materials were provided to law enforcement and the FBI.
To date, no charges have been filed in that aspect of the case.
Derek Ortiz is a retired US Army Specialist having served at home and abroad, stationed at Fort Bragg, Fayetteville, North Carolina at the time of his medical retirement.
More on his service and areas he served in will be provided in PART II of this series.
This author has confirmed that the Federal Bureau of Investigation is urgently looking into the case and the Department of State is also involved.
Contact information for elected officials has been provided below.
President Biden
White House switchboard at 202-456-1414
The comments line at 202-456-1111
Email: president@whitehouse.gov
Vice President Harris
White House switchboard at 202-456-1414
The comments line at 202-456-1111
comment page: www.whitehouse.gov/contact/
NC Senator Thom Tillis
202-224-6342
NC Senator Richard Burr
202-224-3154
NC Congressman Richard Hudson
Washington Office: 202-225-3715
NC Office: 910-997-2070
NC State Senators
Kirk DeViere – Office Phone: 919-733-5776
Email: Kirk.deViere@ncleg.gov
Legislative Assistant: Grayson Barnette
Ben Clark – Office Phone: 919-733-9349
Email: Ben.Clark@ncleg.gov
Legislative Assistant: Dion Clark
NC State Representatives
Marvin Lucas – Phone: 910-497-2733
Email: Marvin.Lucas@ncleg.gov
Legislative Assistant: Thelma Utley
William Richardson – Phone: 910-488-5050
Email: William.Richardson@ncleg.gov
Legislative Assistant: Leigh Lawrence
John Szoka – Phone: 910-583-2960
Email: John.Szoka@ncleg.gov
Military Experience: US Army, 1976-96, Retired LTC
Legislative Assistant: Beverly Slagle
Diane Wheatley – Phone: 919-733-5959
Email: Diane.Wheatley@ncleg.gov
Legislative Assistant: Al Wheatley
More on this story as information is made available.