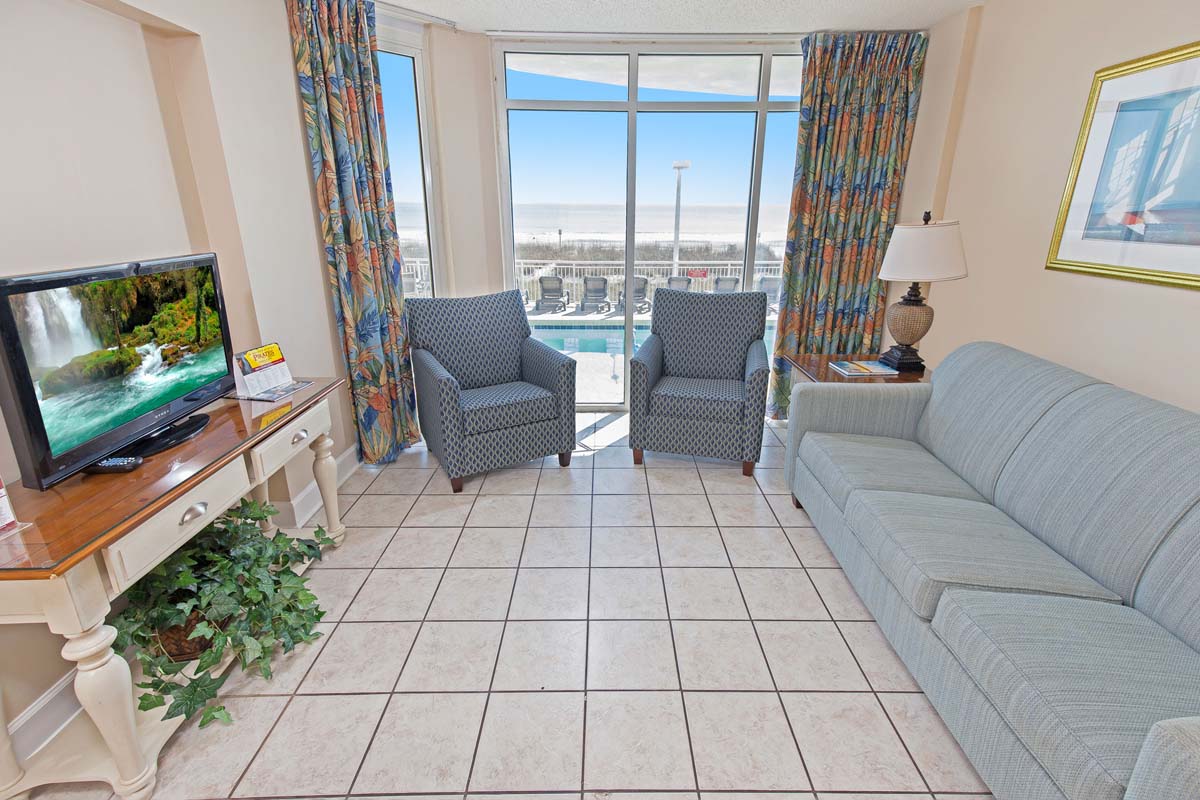 The following is the result of a more than 18-month long investigation by Talk Williamsport into the Williamsport Area High School Baseball Team trip to Myrtle Beach, South Carolina in the spring of 2018.
This story is graphic and contains details related to multiple indecent sexual assaults.
The author and editor of this story have made the editorial decision to not publish the names of the individuals under the age of 18 at the time of the incident who have been clearly identified as committing these acts in this case since they have not been formally charged with a crime.
A Baseball Story In The Birthplace Of Little League Baseball
IF NOTHING HAPPENED IN MYRTLE BEACH
WHY WON'T THE WASD TELL US THE STORY?
PART III
By Todd Bartley, Talk Williamsport
News@talkwilliamsport.com
JURISDICTION ISSUE
The family of JOHN DOE #1 was also interviewed by Weber, even though Lycoming County does not have jurisdiction in the case of the offenses that occurred in Myrtle Beach.
The family of JOHN DOE #1 offered the following account of their experience with the Lycoming County District Attorney's Office to Talk Williamsport.
"(Chief Detective) Weber refused to provide details or progress reports of the case. At no time did (JOHN DOE #1) family say that the incident that occurred in Myrtle Beach was o.k. or acceptable."
"At no time did (JOHN DOE #1) family say that they did not want to press charges against those responsible."
When interviewed for this story and pressed on this issue by Talk Williamsport, "The family of (JOHN DOE #1) reaffirmed their desire to have charges pressed in every venue available in order to get justice which to date has been denied to JOHN DOE #1."
Talk Williamsport reached out to a former senior level South Carolina law enforcement official for background on the jurisdiction issue in this case.
That person confirmed the fact pattern developed in this case absolutely gives South Carolina law enforcement jurisdiction.
Under South Carolina Sexual Assault Laws Statutory Rape is defined as follows:
Criminal sexual conduct with a minor in the third degree:
The actor is over 14 years old and the actor willfully and lewdly commits or attempts to commit a lewd or lascivious act upon or with the body of a child under 16 years old, with the intent of arousing, appealing to, or gratifying the lust, passions, or sexual desire of the actor or child.
Criminal sexual conduct in the first degree
Engaging in sexual battery with the victim and if:
The actor used aggravated force to accomplish sexual battery;
The victim submits to sexual battery by the actor under circumstances where the victim is also the victim of forcible confinement, kidnapping, trafficking in persons, robbery, extortion, burglary, housebreaking, or any other similar offense or act; or
The actor causes the victim, without the victim's consent, to become mentally incapacitated or physically helpless by administering, distributing, dispensing, delivering, or causing to be administered, distributed, dispensed, or delivered a controlled substance, a controlled substance analogue, or any intoxicating substance.
THE INTERVIEWS CONDUCTED BY WAHS PRINCIPAL BRANDON PARDOE
Brandon Pardoe as a member of the traveling party that went to Myrtle Beach and one of the signatories on the document entering the Millionaire Baseball team into the tournament was in Myrtle Beach at the time of the incident.
He also had a son Cam on the team at the time; as well as a nephew on the team.  The nephew (identity redacted) was in the room and an active participate in the incident.
Pardoe claimed he was made aware of the incident after the ChildLine call and Weber contacting the Williamsport Area High School on or after May 18, 2019.
Pardoe offers the family of and VIDEOGRAPHER #1 assurances that "everything will be alright and that he never wants to see the video again."
According to the family of VIDEOGRAPHER #1, Pardoe then takes the unusual step of suspending the student who video recorded the incident from the baseball team.
WASD provided Talk Williamsport phone records as part of the mediation process with the Office of the Open Records after their partial RTKL denial on July 18, 2019.
Item 6(b) Randy Zangara cell phone detail from January 2018 — June 2018 — Unable to determine if responsive to the request. All records disclosed with redaction for personally identifiable information.
Item 6(c) Sean McCann — cell phone detail from January 2018 — June 2019 and text logs from February 2019 — July 2019. Record with a black dot on the left side of page near date and any calls with an origination and/or destination of Myrtle Beach, SC may or may not be responsive to the request (unsure of content of calls). No text messages were responsive to the text.
Item 6(f) — Heller Text – Review of cell phones found one text message responsive to the request.
What WASD has failed to produce to date are any cell phone records or text messages from Brandon Pardoe in the exact time frame of January – June 2018 as records were obtained from McCann and Zangara.
Item 6(a) Brandon Pardoe cell phone log only available from July 2018 — July 2019 and text logs from February 2019 — July 2019 – No records were responsive to the request.
Instead of providing records from Pardoe, WASD has stood behind Item 6, a Response from Verizon regarding obtaining detailed information from district cell phones. The reference cites the need for a court order to obtain the records.
In the identical time period, the WASD owns cell phones and pays those bills, how is it possible the Pardoe records were not produced when the McCann and Zangara records were?
Why is a court order necessary?
Are there items on that phone that the WASD and or Brandon Pardoe do not want the public to be aware of?
Which raises the question, if nothing happened in Myrtle Beach, why won't the WASD tell us the story?
PARDOE JOINS LEPLEY IN MEETINGS AT WASD AFTER BEING IN MYRTLE BEACH
BOTH HAVE LONG STANDING WEST END BABE RUTH BASEBALL RELATIONSHIP
From the earliest days of this case, local criminal defense attorney George Lepley is involved.
The invoices for legal services submitted by WASD Solicitor Fred Holland indicate as much with Lepley's name appearing on the invoices.
As part of the criminal and non-criminal investigations conducted by WAHS Head Principal Brandon Pardoe, a key party became involved early in the process.
George Lepley has been the Hall of Fame head coach of West End Babe Ruth Baseball teams.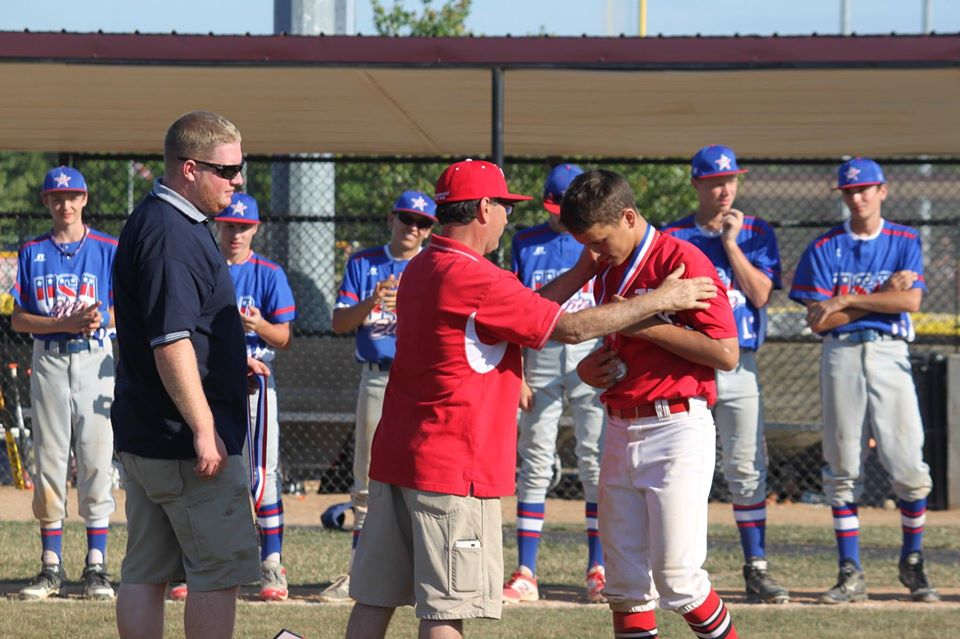 In recent years Cam Pardoe (son of Brandon Pardoe) played for West End and George Lepley as the publicly posted to Facebook photo shows (above) during a medal ceremony in 2014.
Brandon Pardoe is also photographed attending.
Talk Williamsport has confirmed George Lepley was in Myrtle Beach with the Millionaires Baseball Team to see his grandson Caleb Joy play.
Caleb Joy along with Cam Pardoe, Tanner Esposito, Isaac Snyder, Tyler McCann, Cody Shimp, Ryan Jolin and Cam Dickey had their names released by WASD as part of the RTKL requests since they were the age of majority at the time of the Myrtle Beach trip.
Jamie Joy who is employed by Little League International was also in Myrtle Beach joined by his wife Rachel Lepley Joy to see their son Caleb play.
Rachel Lepley Joy is the daughter of George Lepley and the office manager for the Lepley, Engleman and Yaw law firm.
Talk Williamsport obtained legal services invoices through the RTKL; these invoices were submitted by and paid to WASD Solicitor Fred Holland.  At least a pair of invoices exist related to the incidents in Myrtle Beach and were provided here Holland Invoices.
According to publicly posted WASD School Board Meeting Minutes Lori Baer, Williamsport Area High School Board President is the West End Baseball Liaison.
Lori Baer is also a registered nurse and a Clinical Coordinator with UPMC Susquehanna she is also a mandatory reporter.
As a general rule, nurses are by most statutes, mandatory reporters including but not limited to child abuse and neglect, medical neglect of children and the elderly, domestic violence, elder abuse in the community or in nursing homes.
As WASD School Board President she is in a position to allow Pardoe to conduct his own investigations as well as silence WASD Solicitor Fred Holland.
Previous stories in regard to the incidents in Myrtle Beach have been published by Talk Williamsport then shared to the Facebook page of the radio stations.
A poster made the statement in regard to this author "this man is an asshole!"
Baer subsequently "Liked it".
When reached on Thursday, December 19, 2019 WASD School Board President Lori Baer was asked to comment for this story and the events in Myrtle Beach, she said "it would be illegal for me to comment do to students rights."
If nothing happened in Myrtle Beach then why won't the WASD tell us the story?
Were the students rights President Lori Baer referenced that of JOHN DOE #1 or ALLEGED PERPETRATOR #1, VIDEOGRAPHER #1 or other students?
President Lori Baer has no issue with the FERPA exception allowing the publication of student names on the WASD Athletics Website as members of the Baseball team or on related social media pages.
When Baer was asked about the staff and administrators who were on the trip and their actions, she also declined comment citing she could not do to "personnel matters."
Illegality must not have applied when WASD School Board President Lori Baer had no issue with providing names or photos to be published in the Sun-Gazette during a book presentation ceremony.
A Cochran Primary School (STUDENT NAME REDACTED), "Stubby: The Dog Soldier World War I Hero" by Blake A. Hoena, presented to President Lori Baer.
Followed by Curtin Intermediate School student (STUDENT NAME REDACTED), "My Body and What It Needs" by Ruth Owen, to President Lori Baer. Both names were published on February 12, 2018 in the Williamsport Sun-Gazette.
In an October 20, 2016 Sun-Gazette story titled "Gender equality in athletics at WASD questioned by board member", There was discussion over boys sports receiving more funding than girls athletics during the Williamsport Area School Board meeting on Tuesday.
The Williamsport Area High School baseball team requested approval to take 30 team members plus coaches to a six-day tournament in April at Myrtle Beach, South Carolina. According to board member Jane Penman, the trip will cost $20,000.
Penman claimed there is disparity putting more money into boys sports over girls. "We turn our head the other way at girls sports; that really bothers me," she said. The board does not get to see the athletic budget and Penman said she questions whether money is distributed equally for both genders.
The board voted 5-1 in favor of the baseball team's trip. Voting yes were Lori Baer, Scott Williams, Jerene Milliken, Nancy Story Somers and Robin Knauth. Penman voted no.
In the 2016 baseball team trip request there is no mention of adult chaperones accompanying the team to Myrtle Beach.
POSSIBLE CONFLICTS OF INTEREST WITH THE INVESTIGATORS
How can Pardoe run investigations when his son is on the team and his nephew is alleged to have been in both rooms at the time of the indecent assaults?
Why is George Lepley present during interviews when Fred Holland has already admitted the WASD did not hire Lepley?
Instead, Lepley is the attorney of record for ALLEGED PERPETRATOR #1 and his family.
Was it a baseball courtesy?
As part of the timeline reconstruction of events, the ChildLine Call was made on or about May 18, 2018.
The family of JOHN DOE #1 asserts Lycoming County Children and Youth Services were involved in the case as early as May 19, 2018.
The family of JOHN DOE #1 asserts that no WASD officials or the Lycoming County District Attorney's office reached out to them in the immediate aftermath of the ChildLine call.
The family of JOHN DOE #1 having received notification of the ChildLine call themselves, placed a call to WAHS Assistant Principal Roger Freed on May 21, 2018 at 9:34 a.m. inquiring about the situation.
Freed pleads ignorance to the ChildLine call and asserts to the family of JOHN DOE #1 "he has no knowledge of the incident in Myrtle Beach."
On May 24, 2018 – Williamsport defeats West Scranton at Bucknell University, 14-2 in Round 2 of the 2018 District II/IV Baseball 6A Sub-regional.
JOHN DOE#1 & FAMILY MEET WITH PARDOE AND OTHERS AT WAHS
The family of JOHN DOE #1 confirmed a meeting took place on May 25, 2018 at Williamsport Area High School with JOHN DOE #1, family member (REDACTED), Weber, Pardoe, Zangara and Freed all present.
In the meeting it was disclosed by the family of JOHN DOE #1, "the video speaks for itself".
Zangara being present in the meeting contradicts his earlier quote that he was not part of any investigations when in fact he sat in the intake interview with JOHN DOE #1 on school property.
On May 28, 2018 – Williamsport defeats Hazleton at PNC Park, 4-3 in the 2018 District II/IV Baseball 6A Sub-regional Final.
On June 4, 2018, WASD Solicitor Fred Holland submitted an invoice for services rendered of 0.80 hours and noted that a telephone conference occurred on May 31, 2018.
The May 31, 2018 telephone conference Holland referred to as "Investigation", and included High School Principal Brandon Pardoe (who was on the trip to Myrtle Beach), Lepley and Holland who again referred to the call as "pending investigations".
On June 4, 2018 – Williamsport defeats Downingtown East at Central Columbia HS, 4-1 in the 2018 PIAA Baseball 6A First Round.
WASD Solicitor Fred Holland submitted a second invoice on July 3, 2018 for a meeting that he attended on June 5, 2018 in regard to a VM (later identified by WASD as voicemail).
The WASD has stated that the voicemail record no longer exists.
The family of JOHN DOE #1 has confirmed to Talk Williamsport, the voicemail in question was left by them.
It occurred at 11:26 a.m. the morning of June 5, 2018 and a follow-up call was placed to the family of JOHN DOE #1 at 12:52 p.m.  WASD officials cited FERPA as the reason the family of JOHN DOE #1 would not be receiving any additional information about the incident.
That same day, June 5, 2018 WASD Solicitor Fred Holland attended a meeting with Lepley and Pardoe which lasted for 1.8 hours. That is the billing total Holland submitted to the WASD.
When Talk Williamsport attempted to confirm the time and location of the June 5, 2018 meeting with the WASD, Wanda Erb responded via e-mail
Wanda Erb <werb@wasd.org>
Friday, December 20, 2019 at 9:32 AM,
Mr. Bartley, Good morning. I received your phone message late yesterday afternoon. As you are aware, the Right to Know Law (RTKL) requires requests for information to be submitted in writing.
Please complete the RTKL request form found at https://www.wasd.org/data/StreamFile.aspx?loc=secureFiles&file=RTKRequestForm.pdf.
After I receive the completed form, the district will respond based upon whether this information is available under the RTKL.
Sincerely, Wanda
Wanda M. Erb, SFO, PCSBA, Business Administrator, Williamsport Area School District
Talk Williamsport confirmed with the Law office of George Lepley the meeting was held at 2 p.m. at Williamsport Area High School on June 5, 2018.
Talk Williamsport has obtained written confirmation Lepley at all times relevant to this case has represented ALLEGED PERPETRATOR #1.
Why is a criminal defense attorney meeting with WASD officials and their solicitor during an investigation into alleged "indecent and inappropriate behavior" on the part of his client?
Was Lepley there as a fact witness since he was on the trip in Myrtle Beach?
With FERPA being cited as the reason the family of JOHN DOE #1 would not be receiving any additional information about the incident; was the same standard applied in the meeting at WAHS with Pardoe, Lepley and Holland documented in the Holland Invoice and confirmed by Lepley's Office?
According to the family of JOHN DOE #1, June 5, 2018 was the last time they had any communication from the WASD in regard to the Myrtle Beach incident.
On June 7, 2018 –Bensalem defeats Williamsport at Pine Grove, Walter Stump Stadium 6-0, in the 2018 PIAA Baseball 6A Second Round.
LEPLEY MAKES STATEMENT ON Talk Williamsport FACEBOOK PAGE
Lepley went as far as to offer comment on the case while coaching the West End 13U team in Altoona, Pennsylvania on the Talk Williamsport Facebook page as noted on
Sunday, July 28, 2019, 1:09 p.m.
George E Lepley Jr This matter was reviewed by law enforcement in Myrtle Beach and found to NOT be appropriate for criminal prosecution. I don't think you can get anymore independent than that
Where is the proof in the statement Lepley makes?
Speaking of independent, where is the proof any one associated with the WASD and this matter ever contacted Myrtle Beach law enforcement authorities?
What formal statement from a member of the Myrtle Beach law enforcement community has occurred in verifying the Lepley statement?
Did Pardoe file a report of the findings of his investigations with the WASD school board?
Did that report include the number of fact witnesses, victim statements, statements taken from players, coaches, or photos or videos from anyone else on the trip?
Talk Williamsport asked Attorney Lepley on several occasions over a 24 hour time period after his post to clarify how he was aware Myrtle Beach authorities reviewed the case and chose not to pursue criminal prosecution of his client.
There has yet to be a response from him on any of those questions even after publication of Part 1 and Part II of this story.
Talk Williamsport again, has independently confirmed a conversation occurred with Myrtle Beach law enforcement authorities with members of the Office of the Lycoming County District Attorney.
That conversation was noted as the incident in question was "a prank".
HELLER & MOORE TEXT EXCHANGE
Two Millionaire baseball assistant coaches David Heller and Tariq Moore have a very interesting text conversation in the immediate aftermath of the Millionaire baseball season.
Both coaches as WASD has confirmed under the penalty of perjury were on the trip in Myrtle Beach.
Date: June 13, 2018                Time 11:54 a.m.
From David Heller (Current 9th Grade Social Studies Teacher & Assistant baseball coach)
To: Rique (Tariq Moore Assistant baseball coach)
(Father of ALLEGED PERPETRATOR #1 NAME REDACTED) ask me to call him..should return the call?
Heller: I would be hesitant. maybe (he) wants something else. i would talk to brandon first proly
Rique: What's Brandon number?
Heller: (Number redacted by WASD)
Why did a pair of assistant baseball coaches concerned about a parent question and being "hesitant" because said parent "maybe (he) wants something else", and then referring the matter to the WAHS Head Principal instead of the head baseball coach Kyle Schneider?
What "something else" did the father of ALLEGED PERPETRATOR #1 want?
Why did Heller say "i would talk to brandon first proly"?
The Brandon referenced above is the same WAHS Head Principal who oversaw both criminal and on-criminal investigations as noted in the WASD RTKL Denial on July 18, 2019.
WASD SILENCSES SOLICITOR FRED HOLLAND
On Tuesday, July 30, 2019 at 10:30 AM Talk Williamsport asked several clarification questions that ended in WASD Solicitor Fred Holland being silenced by his client.
Fred,
I need a clarification on the invoices WASD provided Talk Williamsport from your firm.  The pair of invoices provided indicate George Lepley was involved in meetings and phone calls. 
Was he employed by WASD or representing someone else? 
Thanks for your attention in this matter. Todd
Fred Holland responded at 1:24 PM:
Mr. Lepley was not retained by WASD. Fred
At 1:34 PM, Bartley asks, As a follow-up, then why was he in meetings with WASD officials in the midst of multiple investigations?
Fred Holland responds at 1:47 PM
Todd, With all due respect, I cannot answer that question.
The Right to Know Act allows you to obtain documents, which you have done. I cannot discuss with you the things that are in those documents without the approval of my client.
Best regards, Fred
Bartley asks at 4:58 PM
Fred, Will your client grant you the ability to discuss with me what is contained in those documents?
The invitation goes unanswered the rest of July 30, 2019.
On Wednesday July 31, 2019 at 3:20 PM a follow-up email is sent:
Fred: It would be my understanding that your client has declined the invitation for you to speak with me in regard to the documents provided so far.
Correct?
On Wednesday July 31, 2019, Holland responds at 3:32 PM in an e-mail copied to WASD Superintendent Timothy Bowers, WASD Open Records Officer Wanda Erb and WASD Attorney Jeff Rowe:
Todd, My client has not authorized me to speak further with you.
Fred,
Fred A. Holland , Murphy, Butterfield, & Holland, P.C.
LETTERS FROM GEORGE LEPLEY THREATENING LEGAL ACTION ON BEHALF OF HIS CLIENT WITH OFFICE OF LYCOMING COUNTY DISTRICT ATTORNEY COOPERATION
Lepley sent at least one letter to a fact witness threatening legal action and in actuality it could be perceived as a witness intimidation letter.
It was sent mid-summer 2018.
What is the toll students have to pay for inaction of WASD, could these be assessed as a result of the inaction of the WASD?
COACH HELLER INVOKES THE NAME OF DARRICK DIXON WITH A STUDENT
Assistant Coach David Heller removes a student from class on September 30, 2019; said student had recently been the victim of a brawl in the football locker room at half-time of the game on September 20, 2019 and began berating this author to the student and invoked the name of Darrick Dixon.
If the story could not get any stranger; Dixon is a known convicted felon who himself was previously found guilty of a sexual crime against a child.
As Darrick Dixon outlined through his attorney in a defamation case against this author and other defendants in April 2016;
His female victim at the time was 14 years old, while he was employed by the WASD as the Girls Basketball Coach.
Dixon plead no contest and was found guilty by Lycoming County President Judge Nancy Butts.
After being convicted, Dixon served a 20-month state prison sentence and due to Megan's Law being ruled unconstitutional prior to his sentencing phase he did not have to register.
According to legal sources contacted on background for this story; weeks after being sentenced by Judge Nancy Butts the Pennsylvania Supreme Court reinstated Megan's Law which has since been amended and updated. At all times relevant the offenses Dixon was found guilty of were all Megan's Law registry offenses.
As referenced in #30 above, Dixon claims to be a model citizen "not a single arrest or run-in with the law", however a public records search show when that assertion was made it was patently false.
In 2014, Pennsylvania State Police charged Dixon under 75 § 6308 §§ a, which states:
§ 6308. Investigation by police officers. (a) Duty of operator or pedestrian.–The operator of any vehicle or any pedestrian reasonably believed to have violated any provision of this title shall stop upon request or signal of any police officer and shall, upon request, exhibit a registration card, driver's license and information relating to financial responsibility, or other means of identification if a pedestrian or driver of a pedalcycle, and shall write their name in the presence of the police officer if so required for the purpose of establishing identity.
The case was subsequently disposed of with a guilty plea by Dixon.
A number of traffic and non-traffic cases were discovered in the public records search all over the Commonwealth of Pennsylvania.
On August 24, 2018, at 9:34 a.m. the same date as the "Millionaire Mayhem" story was published, Darrick Dixon reached out through social media to the family of JOHN DOE #1 offering his help with the case.
He then referred the family of JOHN DOE #1 to an attorney in Philadelphia and told the family to tell the attorney "Tye sent them." Tye is one of many aliases as well as fake social media profile names used by Dixon.
Dixon offered the name of an attorney in the Philadelphia area, Roland Jarvis, Sr. was contacted on August 27, 2018 by the family of JOHN DOE #1.
Attorney Jarvis gathers any number of facts and details from the family of JOHN DOE #1 it is their belief those details were then shared with George Lepley the family attorney of ALLLEGED PERPETRATOR #1.
To date, Jarvis has not filed any complaints or even tendered an official engagement letter or entrance of appearance for the family of JOHN DOE #1 in this matter.
As of December of 2018, Jarvis ceased communication with the family of JOHN DOE #1.
Multiple attempts to reach Attorney Jarvis for comment on this story were unsuccessful.
At the time he makes contact with the family of the John Doe #1 Dixon is employed by Webb Weekly to produce live video streams of games including Williamsport Area High School in collaboration with Gary Chrisman of KISS-FM which is owned by IHeart Media and Cable Sports Productions a company owned by Chrisman.
Those broadcasts by Webb Weekly and in turn Dixon, were being sponsored by a local business which is owned and operated by the family of ALLEGED PERPETRATOR #1.
Jim Webb, Jr. Publisher of the Webb Weekly has a long history with West End baseball as both his sons played on teams in the program in recent years.
When reached for this story and his relationship with Dixon, Webb said, "he's (Dixon) not on my payroll but I pay him to do games."
ALLEGED PERPETRATOR #1 FAMILY CONNECTIONS TO DIXON
The father of ALLEGED PERPETRATOR #1 referenced in the previously cited text exchange between WAHS assistant baseball coaches pled guilty on Monday, December 9, 2019 in a DUI case before Lycoming County Judge Marc F. Lovecchio.
Given it was his first offense, he was given (Gen Imp/Inc of Driving Safely – 1st Off ARD – County M 75 § 3802 §§ A1*) and a Blood Alcohol Content of .10 and ordered to participate in the ARD – DUI Community Service Program.
He was also ordered to participate in a public or non-profit community service program, license Suspension of operator's license for a period of and to surrender license to the Clerk of Courts forthwith.
The following Judge Ordered Conditions are imposed: Condition Defendant shall undergo supervision for a period of 12 months. Defendant shall pay costs pursuant to Act 198 of 2002 in the amount of $100.00. Defendant shall pay all other fees, fines and costs mandated by law, local rule of court, or administrative order of court. Defendant shall obtain and pay for a CRN evaluation and follow any recommendations resulting therefrom.
To devote time to any other purpose approved by the court including but not limited to 50 hours of community service, abstain from the use of drugs and alcohol, undergo random testing, undergo an assessment, comply with any recommendations and attend DUI classroom education.
Talk Williamsport has also obtained numerous videos posted to social media showing the father of ALLEGED PERPETRATOR #1 at "baseball team bonding parties" furnishing alcohol to minors and in one video actually taking an alcoholic shot with a minor female.
The father of ALLEGED PERPETRATOR #1 also has a history of bad behavior with cases of disorderly conduct and simple assault.
Darrick Dixon is infamous for obtaining multiple endorsements. A video of note has endorsements from Lycoming County Judge Marc Lovecchio, nearly every principal in the WASD and former WBP Captain Tim Miller in order for him to secure a pardon from the Governor of the Commonwealth of Pennsylvania.
One of the strongest endorsements on the video at the time it was produced came from then WAMS Principal Brandon Pardoe.
The video is listed as Darrickforpardon, on YouTube, Who is Darrick Dixon Rizzo and was posted on July 4, 2014.
As previously reported Dixon has made a habit since his release from prison to continue to be around children and juveniles on a regular basis under the alias Darrick Rizzo and various company names videotaping athletic events and making highlight videos.
Dixon also claimed to the family of JOHN DOE #1 he had pursued a lawsuit against the WASD and was successful.
No record of that lawsuit has been found.
Coach David Heller shared a story with a football brawl victim and repeated what Dixon stated to him; "that he (Dixon) won a lawsuit against Bartley and that Bartley had to pay a lot of money."
By publicly stating such, Dixon has violated the confidential terms set forth in the non-cash settlement agreement between the parties in the case noted above.
In reality those statements potentially open the door to future legal ramifications.
How did Darrick Dixon discover the name of JOHN DOE #1 in the first place?
Photographed on the left and posted to the Facebook page of WAHS Principal Brandon Pardoe from left to right are Randy Zangara, Pardoe and Sam Washington (father-in-law of Dixon).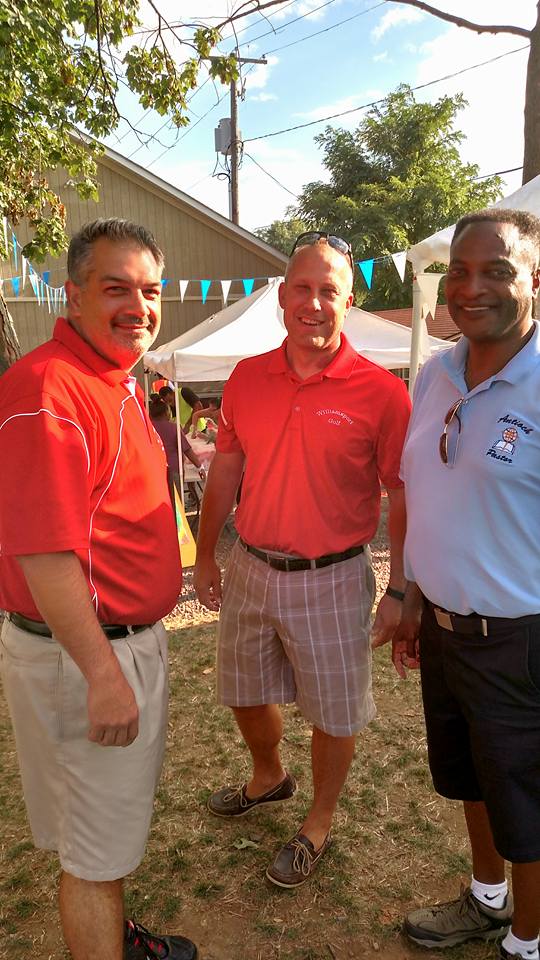 Was it a family connection with the WASD?
Washington previously worked for the WASD.
Dixon and Pardoe were observed by witnesses at the WASD Cross Country Awards Banquet sitting and conversing together at a table during the evening of December 12, 2019.
This is a mere 2 days removed from the Talk Williamsport station vehicle being criminally damaged in the personal residence driveway of this author.
Darrick Dixon has been identified as a person of interest in that case, along with multiple other criminal damaging and road rage incidents against the author of this story.
Local law enforcement has confirmed to Talk Williamsport that Dixon is known to them as being active in the drug trade.
Dixon has on numerous occasions posted to social media claiming "he is not a drug dealer".
In a photo publicly posted on his Facebook page and subsequently deleted, is a PA State Trooper performing a probable cause search of his personal vehicle.
Law enforcement officials shared with Talk Williamsport that Dixon had been observed by them conducting a pair of drug transactions in plain sight in recent months.
No charges have yet to be filed in those cases against the alleged seller or the alleged buyer.
In recent days WBP Chief Hagan was quoted in an editorial "Tough crime trends" appearing in the Sun-Gazette on December 18, 2019, "Chief Hagan points to the number of fugitives and drug dealers roaming city streets as the key factor in the violent crime increase. Getting armed individuals — fugitives and drug dealers primarily — off the streets is a top priority because, he said, they tend to carry firearms to protect themselves and their livelihood."
So why was someone observed in plain sight by the WBP engaging in drug deals, not arrested?
Talk Williamsport also confirmed after the 2018 Little League World Series Parade, Dixon through one of his companies recorded and edited a highlight video of the parade even though the television rights had been purchased by WBRE-TV and its parent company NEXSTAR.
The highlight video was then provided to then WBP Captain Jody Miller who served in the capacity of updating the WBP Facebook page where it was then published.
Within days of the video being published on the WBP Facebook page, then Williamsport city councilman Derek Slaughter (now Mayor-Elect and WASD Employee) and another city council member met with Chief Young and Miller.
WBP Captain Jody Miller was chided by the city council members for a tacit endorsement of Dixon and his company and the video was removed.
WHEN DID WASD HAVE CONTACT WITH MYRTLE BEACH AUTHORITIES?
Based on the previously reported Myrtle Beach Police Department incident report that at minimum a person named Ryan Miller had contact on or around March 25, 2018 with MBPD.
According to information obtained through the RTKL mediation process with WASD they admitted the following under the penalty of perjury, "WASD had no written communication with those individuals."
In fact Myrtle Beach PD reached out first instead of mandatory reporters reaching out.
"Mr. Pardoe's personal notes reflect that on September 28, 2018, he received a phone call from Detective (REDACTED) of the Myrtle Beach PD."
"Mr. Pardoe referred the detective to a local county detective (Weber)."
"Detective (REDACTED) number was (REDACTED)."
"Later that same day, Mr. Pardoe also received a phone call from Detective (REDACTED) of the MBPD who asked to speak to the school resource officer. Mr. Pardoe provided the SRO's contact information, but did not note the detective's contact information."
"The SRO at that time was Jordan Stoltzfus, who has not been the district's SRO for about a year now. Stoltzfus was then, and is now, an officer with the Williamsport Bureau of Police."
Why is Pardoe referring Myrtle Beach authorities to Weber when he was present for the interview with the family and JOHN DOE #1 as well as VIDEOGRAPHER #1 and any number of other interviews he conducted during the criminal and non-criminal investigations?
Why is Darrick Dixon involving himself in this case at all?