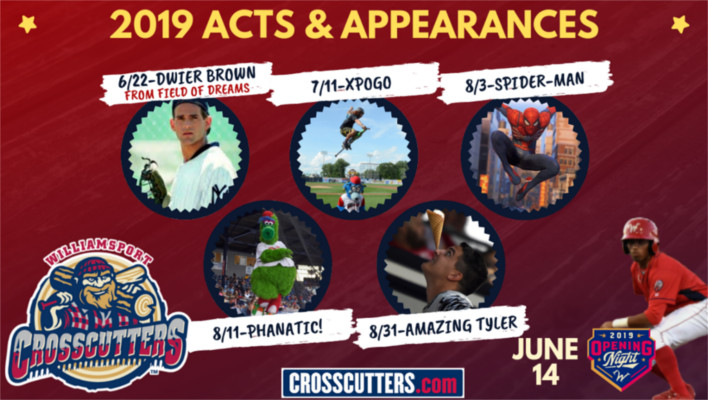 Every Wednesday in April, the Williamsport Crosscutters are revealing a piece of their 2019 promotional calendar in advance of the release of the full slate of events and promotions that is scheduled for May 3rd.
This week, the Cutters announce the Acts and Celebrity Appearances scheduled to visit BB&T Ballpark during the 2019 campaign. Once again this year, fans can expect to see some favorites from the past as well as some entertainers making their first Williamsport appearance.
"We love giving our fans the chance to see unique entertainment acts in addition to meeting some celebrities up close and personal," stated Gabe Sinicropi, the Williamsport Crosscutters Vice President of Marketing and Public Relations. "The access the fans have at a minor league ballpark, especially ours, can provide a very unique and memorable experience."
The following Acts and Celebrity Appearances have been scheduled for the Crosscutters 2019 season;
· June 22 – Field of Dreams Night featuring actor Dwier Brown, who portrayed Kevin Costner's
father, John Kinsella, in the movie.
· July 11 – Xpogo- The extreme pogo team
· August 3 – MARVEL Super Hero Night featuring Spider-Man
· August 11 – The Phillie Phanatic
· August 31 – Tyler's Amazing Balancing Act
The celebrity appearance slate will grow with the announcement of the Local Legends Bobblehead Series, a total of five bobblehead giveaways planned for the 2019 season that will feature appearances by many of the featured Local Legends. That reveal is scheduled for April 24.
In addition to the promotions planned for the upcoming season, the Crosscutters offer two money-saving clubs for fans to join;
Sr. Loggers Club presented by UPMC- For fans age 60 and over. For just $25, members receive free a stadium reserved ticket and meal voucher for every Sunday game along with a Sr. Loggers t-shirt.
Jr. Jacks Kids Club presented by Hoss's Steak & Sea House- It's FREE to join for kids age 12 and under. Members receive FREE stadium reserved tickets to any Monday-Thursday games during the 2019 season!
Fans can sign up for either club in person at BB&T Ballpark or by visiting crosscutters.com.
Upcoming promotional announcements include; April 24- Local Legends Bobblehead Series and
May 3- Full 2019 Promotional Schedule.
The 2019 season opens on June 14 when the Crosscutters host the rival State College Spikes at 7:05pm. Information on 2019 MVP Club ticket plans, Bonus Books, groups and corporate partnerships are available by visiting crosscutters.com or by calling (570) 326-3389.