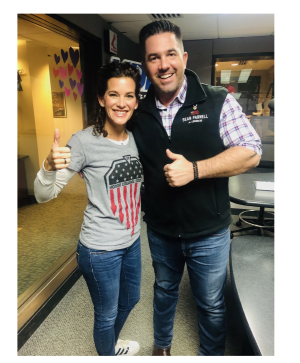 Photo: Wendy Bell and decorated war hero Sean Parnell
On Thursday afternoon, Wendy Bell and Entercom mutually agreed to part ways. Bell, formerly heard on KDKA-AM 1020, Pittsburgh had been taken off the air "until further notice," based on a previous statement from the station.
Entercom made the change after a video of the June 26 episode of her show went viral of Bell advocating on air for park rangers to shoot people who were attempting to destroy Mount Rushmore. Bell says the characterization of her comments were taken out of context and did not incite violence.
Bell offered the following statement for this story, "To anyone out there who believes in the Constitution, who believes in the precious Amendments that make America unlike any other country on planet earth, be warned: Your speech is not free. The radical left will – as it has done to me twice – stop at nothing to silence common-sense conservative values. They might have kicked me off the air, but they haven't silenced the truth, honesty, and facts that I share every day on WendyBell.com. We will fight on – and we will prevail. #TRUMP2020"
Talkwilliamsport.com will have more on this developing story as events continue to unfold.