Pictured: Standing from left is Patrick Dixon, Barbara Reeves, Marc Schefsky, Star Poole and Adam Welteroth.
Seated from left is President Lori Baer, Vice President Dr. Jane Penman, Dr. Nancy Story Somers and Jennifer Lake.
By: Todd Bartley
News@TalkWilliamsport.com
When TalkWilliamsport.com reached out to Marc Schefsky for comment on his impending resignation from the WASD school board due to residency questions; no one could have predicted what came next.
TalkWilliamsport.com filed a "Request for Public Information" with Lycoming County Voter Services to verify the home address of WASD school board member Marc Schefsky.
The request was prompted after a publicly posted photo showed Schefsky in line at Lycoming College to vote in the election this past November.
City of Williamsport, Ward 2 uses Lycoming College as its polling place.
Ward 2 consists of the downtown area and not Cogan Station.
On Friday afternoon, Forrest K. Lehman, Director of Elections and Registration in Lycoming County provided the following in response to the "Request for Public Information":
"Good afternoon – attached is a screenshot of the voter registration record you requested. Some personal identifying information has been redacted to comply with the PA Election Code, which specifies what voter information shall and shall not appear on public information lists.
If you have any additional questions, let me know."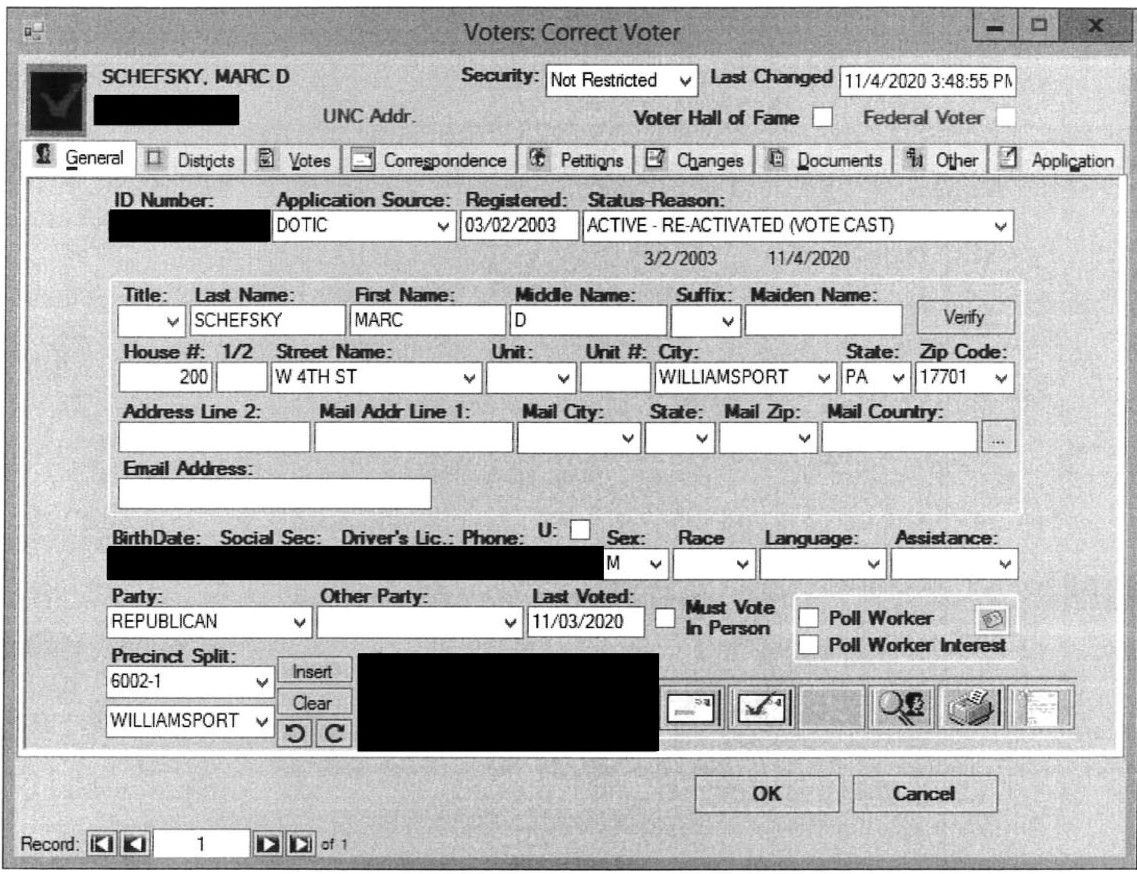 The image shows an address of 200 W. 4th Street, Williamsport, PA 17701 or better known as the Genetti Hotel.
Schefsky is the former long time general manager of the Genetti Hotel and formerly lived there.
According to staff at the Genetti Hotel contacted for this story, Schefsky has neither worked or lived at the hotel in years.
The record indicates a "Last Voted" date of 11/03/2020 and "Last Changed" date of 11/4/2020 at 3:48:55 p.m.
The address of 200 W. 4th Street, Williamsport, PA 17701 is not the same as the address on a document obtained by TalkWilliamsport.com for this story.
The image below shows a redacted address in Cogan Station, Pennsylvania along with the redacted cell phone number belonging to Marc Schefsky.
The student name on the document has also been partially redacted to protect their identity.
Why is Marc Schefsky using a downtown Williamsport to vote, while using a Cogan Station address to allegedly reside in, while at the same time having his name along with that of his now fiance' on mortgage and finance documents at a residence in Hughesville, Pennsylvania?
As reported by TalkWilliamsport.com in "Residency of WASD School Board member in question"
According to a fact witness for this story who is prepared to produce a sworn affidavit under the penalty of perjury offered the following from a conversation between the WASD school board member and Tim Bowers (WASD Superintendent).
"Tim Bowers (WASD Superintendent) encouraged the WASD school board member to use the (Cogan Station) address because he needed him on the board."
To date, neither Bowers nor Schefsky have responded to requests for comment.
As noted in the headline, the resignation of Marc Schefsky from the WASD school board could be the least of his issues.
This is a developing story on TalkWilliamsport.com.
"OP-ED: If coaches contracts can be rescinded; Dr. Bowers, WASD Superintendent's contract extension should be too" – is forthcoming.