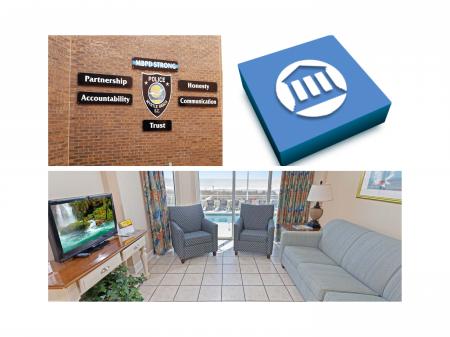 Photo: Myrtle Beach Police Department image (top left)
Horry County Solicitor's Office image (top right)
Atlantica Resort room image (bottom)
A previous, multi-part series of articles was published on this website with results of a more than 18-month long investigation by Talk Williamsport.com.
This story is graphic and contains details related to multiple indecent sexual assaults.
The author and editor of this story have made the editorial decision to not publish the names of the individuals under the age of 18 at the time of the incident who have been clearly identified as committing these acts in this case; even though they have been formally charged with a crime in South Carolina.
A Baseball Story In The Birthplace Of Little League Baseball
IF NOTHING HAPPENED IN MYRTLE BEACH
WHY WON'T THE WASD TELL US THE STORY?
THE 2018 WAHS BASEBALL MYRTLE BEACH STORY –
State Law Claims
COUNT IV
VICARIOUS LIABILITY
Plaintiff v. Defendants WASD and LC
By Todd Bartley, Talk Williamsport
News@talkwilliamsport.com
The following article is the ninth in a series based upon the recent First Amended Complaint filed in Federal Court by the attorneys for John Doe #1; who was indecently sexually assaulted during the Williamsport Area High School Baseball Team trip in Myrtle Beach, South Carolina in the spring of 2018.
From the Complaint;
From the First Amended Complaint filed on Thursday, May 11, 2023.
171. Plaintiff incorporates by reference the preceding paragraphs of this Complaint as if fully set forth herein.
172. Defendants Pardoe, Freed, McCann, Miller, Holland, Weber, and John Does 1-20 (the "Individual Defendants") engaged in unpermitted, harmful, and unlawful conduct which not only facilitated the sexual abuse of Plaintiff, but also engaged in such conduct to cover-up the abuse of Plaintiff in violation of Pennsylvania State law. Said conduct was undertaken while the Individual Defendants were employees and/or agents of Defendants WASD (Pardoe, Freed, McCann, Miller, Holland, John Does 1-20) and LC (Weber), while in the course and scope of employment with Defendants WASD and LC, and/or was ratified by Defendants WASD and LC.
173. Prior to or during the time that the Individual Defendants engaged in the conduct alleged above, Defendants WASD and LC knew, had reason to know, or were otherwise on notice of the unpermitted, harmful, unlawful, and negligent conduct of the Individual Defendants. Defendants WASD and LC failed to take reasonable steps and failed to implement reasonable safeguards to avoid acts of criminal sexual misconduct, hazing, harassment, bullying, and the unlawful suppression of information related to such instances in the future by the Individual Defendants. Furthermore, at no time during the period of time alleged did Defendants WASD or LC have in place a system or procedure to supervise and/or monitor the students in their care on out-of-state athletic trips to ensure that criminal sexual misconduct did not occur; nor did Defendants WASD or LC have in place a system or procedure to supervise and/or monitor their employees, representatives, or agents to ensure that they were not suppressing information related to student criminal sexual misconduct and/or obstructing investigation into same.
174. Defendants' WASD and LC knowing acquiescence and silence with respect to the known, or reasonably knowable, negligence acts and omissions of the Individual Defendants constituted a course of conduct through which acts of sexual abuse and obstruction of justice were condoned, approved, and effectively authorized.
175. Through their failure to timely reprimand and sanction the acts referenced herein, and for all of the other reasons set forth in this Complaint including, without limitation, their failure to take the steps necessary to prevent the occurrence of such reprehensible acts, Defendants WASD and LC ratified said actions and, accordingly, are vicariously liable for the actions of its agents, employees, volunteers, staff members, administrators, teachers, coaches, and representatives, including the Individual Defendants.
176. As a result of the above-described conduct, Plaintiff has suffered and will continue to suffer great pain of mind and body, shock, emotional distress, physical manifestations of emotional distress, embarrassment, loss of self-esteem, disgrace, humiliation and loss of enjoyment of life; were prevented and will continue to be prevented from performing Plaintiff's daily activities and obtaining the full enjoyment of life; has sustained and will continue to sustain loss of earnings and earning capacity; and/or has incurred and will continue to incur expenses for medical and psychological treatment, therapy and counseling.
WHEREFORE, Plaintiff demands judgment against Defendants WASD and LC in a sum in excess of Seventy-Five Thousand ($75,000.00) Dollars, and in excess of the prevailing arbitration limits, in compensatory damages and punitive damages, exclusive of pre-judgment interest, post-judgment interests and costs.
"COUNT V, NEGLIGENCE, Plaintiff v. WASD, Pardoe, Freed, McCann, Miller, Holland and John Does 1-20" in this series, is forthcoming.
This is an exclusive and developing story on TalkWilliamsport.com.