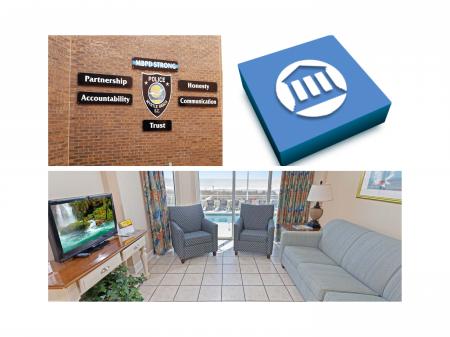 Photo: Myrtle Beach Police Department image (top left)
Horry County Solicitor's Office image (top right)
Atlantica Resort room image (bottom)
A previous, multi-part series of articles was published on this website with results of a more than 18-month long investigation by Talk Williamsport.com.
This story is graphic and contains details related to multiple indecent sexual assaults.
The author and editor of this story have made the editorial decision to not publish the names of the individuals under the age of 18 at the time of the incident who have been clearly identified as committing these acts in this case; even though they have been formally charged with a crime in South Carolina.
A Baseball Story In The Birthplace Of Little League Baseball
IF NOTHING HAPPENED IN MYRTLE BEACH
WHY WON'T THE WASD TELL US THE STORY?
THE 2018 WAHS BASEBALL MYRTLE BEACH STORY –
State Law Claims
COUNT XI – CIVIL CONSPIRACY
Plaintiff v. All Defendants
By Todd Bartley, Talk Williamsport
News@talkwilliamsport.com
The following article is the seventeenth a series based upon the recent First Amended Complaint filed in Federal Court by the attorneys for John Doe #1; who was indecently sexually assaulted during the Williamsport Area High School Baseball Team trip in Myrtle Beach, South Carolina in the spring of 2018.
From the Complaint;
From the First Amended Complaint filed on Thursday, May 11, 2023.
231. Plaintiff incorporates by reference the preceding paragraphs of this Complaint as if fully set forth herein.
232. As outlined above and upon information and belief, Defendants WASD, LC, and their respective employees, agents, staff, administrators, directors, teachers, coaches all knowingly and willfully conspired and agreed among themselves to misrepresent to and conceal from the public, including, but not limited to Plaintiff and his family, information relating to his and other students' sexual abuse and/or their investigation of and response to such abuse and/or their intent regarding consequences to be faced by B.M. and others who they knew participated in the abuse of Plaintiff and other students. This conspiracy continues to this day as all Defendants have claimed privately and publicly that their investigation of and response to Plaintiff's abuse was prompt, appropriate, and thorough.
233. The Defendants conspired to keep the abuse of Plaintiff and other WAHS students from the public, as well as appropriate law enforcement authorities. Instead of informing the public, Plaintiff, and/or appropriate law enforcement authorities about such instances of abuse, Defendants intentionally and falsely told Plaintiff, the public, and appropriate law enforcement authorities that what occurred was merely "indecent" and/or "inappropriate" rather than criminal sexual behavior.
234. Further, the Defendants likewise conspired to keep their investigation of and response to the abuse of Plaintiff hidden from the public and appropriate law enforcement authorities. Defendants conspired to: destroy evidence; silence witnesses; make back-room deals to protect perpetrators of abuse rather than Plaintiff, the innocent victim of a sexual assault; discriminate against Plaintiff by seriously vetting and investigating the allegations of a similarly situated white victim of abuse; falsify records and/or fabricate information contained in official law enforcement documents; and other activities described throughout this Complaint in an effort to minimize the seriousness of Plaintiff's abuse and any corresponding embarrassment or reputational harm Defendants would face as a result of the abuse. Instead of informing the public, Plaintiff, and/or appropriate law enforcement authorities about such instances of abuse, Defendants intentionally and falsely told Plaintiff, the public, and appropriate law enforcement authorities, among other things, that Defendants first learned of the abuse via local law enforcement, that the matter was investigated by outside agencies including the LC DA's Office, that the individuals
conducting the investigation were not biased, that Defendants had communicated with families of all students involved, and that the conduct of B.M. and other students towards Plaintiff was not condoned.
235. In furtherance of said conspiracy and agreement, Defendants engaged in fraudulent representations, omissions and/or concealment of facts, acts of cover-up and statements. Defendants were purely motivated in this regard for the purposes of protecting their own interests at the expense of innocent children, including Plaintiff.
236. All of the actions of Defendants set forth in the preceding paragraphs were in violation of the rights of Plaintiff and committed in furtherance of the aforementioned conspiracies and agreements. Moreover, each of the aforementioned individuals lent aid and encouragement, and knowingly financed, ratified and/or adopted the acts of the other. As a proximate result of the wrongful acts herein alleged, Plaintiff has suffered significant damage as outlined above.
237. These acts constituted malicious conduct which was carried on the Defendants with willful and conscious disregard for Plaintiff's rights with the intention of willfully concealing incidents of abuse and harassment, and was despicable conduct by any measure that subjected Plaintiff to cruel and unjust hardship, so as to justify an award of exemplary and punitive damages. Accordingly, punitive damages should be awarded against Defendants to punish them and deter other such persons from committing such wrongful and malicious acts in the future.
WHEREFORE, Plaintiff demands judgment against Defendants WASD, LC, Pardoe, Freed, McCann, Miller, Holland, Weber, and John Does 1-20 in a sum more than Seventy-Five Thousand ($75,000.00) Dollars, and in excess of the prevailing arbitration limits, in compensatory damages and punitive damages, exclusive of pre-judgment interest, post-judgment interests and costs.
Dated: ____5/10/23____
LAFFEY, BUCCI & KENT, LLP
BY:
Brian D. Kent, Esq., Gaetano D'Andrea, Esq., Michael J. McFarland, Esq., Jillian P. Roth, Esq.
LAFFEY, BUCCI & KENT, LLP
1100 Ludlow Street, Suite 300
Philadelphia, PA 19107
(T): REDACTED BY AUTHOR
(E): REDACTED BY AUTHOR
STAPP LAW, LLC
BY: /s/ Gregory A. Stapp
Gregory A. Stapp, Esq.
STAPP LAW, LLC
153 West 4th Street, Suite 6
Williamsport, PA 17701
(T): REDACTED BY AUTHOR
(E): REDACTED BY AUTHOR
Attorneys for Plaintiff
This is a developing story on Talkwilliamsport.com.