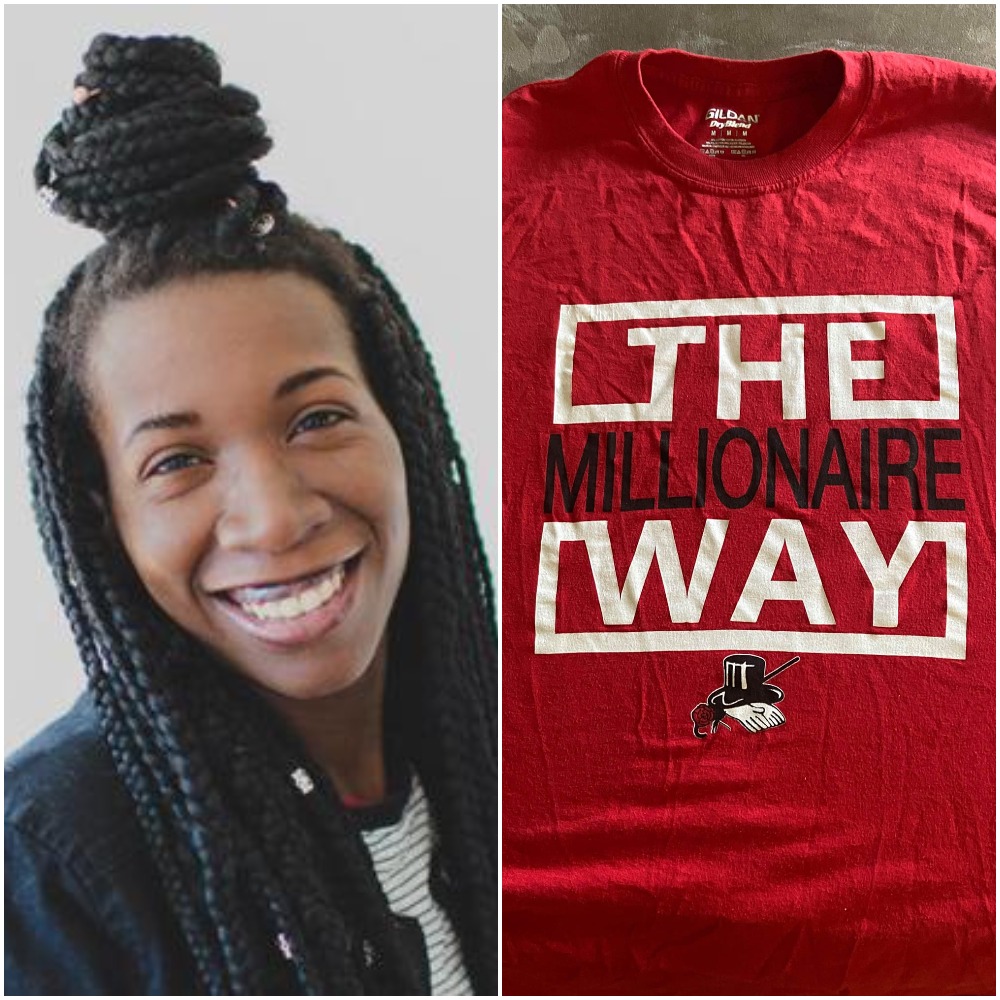 Ms. Star Poole, former WASD school board member (left)
Millionaire Way T-Shirt (right)
By Todd Bartley, TalkWilliamsport.com
News@TalkWilliamsport.com
On Tuesday evening the Williamsport Area School District School Board held their first meeting of 2022. Prior to the regularly scheduled meeting a "due process hearing" was held in "executive session" or "in private"; according to the publicly posted meeting agenda "for Star Poole."
The agenda makes no mention of the purpose of the "due process hearing".
That information was noted in the Board Agenda from December 7, 2021.
4.1 BOARD PRESIDENT'S REPORT –
A. Consider whether to set a date for a due process hearing to remove Star Poole
from her position as a Board member.
Previously when given the opportunity to second a motion to begin a discussion on a third party investigation into the WASD handling of the 2018 WAHS baseball/Myrtle Beach case; Poole sat silent.
A black WAHS baseball player was "criminally sexually assaulted" by a white teammate on the trip.
The white teammate was criminally charged in South Carolina last year.
Prior to the vote being taken, WASD school board member, Mrs. Cody Derr stated "She (Star Poole) has missed 13 meetings since I got here last year. That's half the meetings."
Mr. Jamie Sanders, added there were at least three occasions where; "She (Star Poole) missed 3 consecutive meetings with no communication with the board."
After multiple board members spoke in the public portion of the meeting a vote was taken to remove Star Poole from her position as a Board member.
The vote to remove Poole was nearly unanimous with the exception of Mrs. Barbara Reeves, Vice President who voted against removing her.
Those WASD school board members who voted to remove Poole were; Ms. Lori Baer, President, Mrs. Cody Derr, Mrs. Michelle Deavor, Mr. Patrick Dixon, Mrs. Jennifer Lake, Mr. Jamie Sanders and Mr. Adam Welteroth.
Ms. Star Poole, by state law was not permitted to cast a vote.
Once voted off the board, Ms. Lori Baer, President, asked WASD Solicitor if indeed Ms. Poole needed to leave since she was no longer a member of the board?
Holland concurred and Baer then asked Poole to leave the stage.
At which time Poole exited stage left.
At this writing Star Poole is still listed as a "Board Member" on the WASD website. Under drop down links both "Education" and "Positions" remain blank.
In a break from previous precedent, due process for the tax paying public and board policy; Ms. Lori Baer, President, undertook an effort to name Scott Williams who garnered the sixth highest vote tally in the November 2021 election.
Mr. Jamie Sanders made a motion which was seconded to contact Williams to see his interest level to fill the now vacated seat left by Star Poole.
Another example of the "The Millionaire Way"?
TalkWilliamsport.com had already done deep dive research on each WASD school board candidate on the ballot and publicly announced write-in candidates prior to the November 2021 election and those findings are set to be released over the next few weeks.
Some of the findings have previously been reported on and can be found here.
Currently, Lycoming County District Attorney, Ryan Gardner has a petition and complaint signed by at least 10-voters in the WASD to hold the entire board accountable for "malfeasance in office" and "dereliction of duty."
According to public comments made Tuesday evening and memorialized on video by TalkWilliamsport.com both Mrs. Barbara Reeves, Vice President and Mr. Jamie Sanders ; they acknowledged "the board was complicit in allowing the (Poole) situation (repeated absences with no repercussions)."
When reached this evening, Lycoming County District Attorney, Ryan Gardner declined comment for this story.
Star Poole still faces a myriad issues related to open warrants with multiple local Lycoming County Courts as first reported by TalkWilliamsport.com.
This is an exclusive and developing story as first reported on TalkWilliamsport.com.