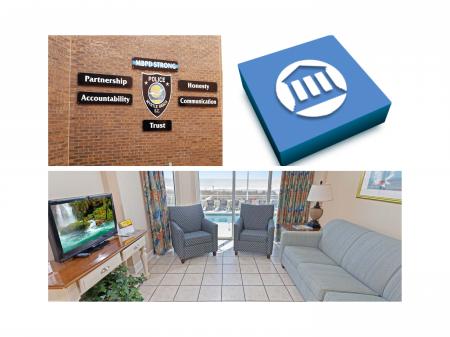 Photo: Myrtle Beach Police Department image (top left)
Horry County Solicitor's Office image (top right)
Atlantica Resort room image (bottom)
By: Todd Bartley, TalkWilliamsport.com
News@TalkWilliamsport.com
TalkWilliamsport.com has independently confirmed that a criminal charge has been filed in South Carolina against the student whom WASD Solicitor Fred Holland referred to in an earlier email as committing "indecent and inappropriate behavior" toward another student during the 2018 WAHS baseball team trip in Myrtle Beach, South Carolina.
Lycoming County District Attorney Ryan Gardner later characterized the behavior as "criminal sexual misconduct" before referring the case to PA Attorney General Josh Shapiro.
The criminal charge has been filed by the Horry County Juvenile Solicitors Office based upon an exhaustive investigation conducted by the Myrtle Beach Police Department and its criminal investigation unit.
Local criminal defense attorney George Lepley who also stayed in the WAHS baseball team hotel (Atlantica Resort) in Myrtle Beach, South Carolina in 2018; offered the following comment referenced in "A Baseball Story In The Birthplace Of Little League Baseball – PART III.
LEPLEY MAKES STATEMENT ON Talk Williamsport FACEBOOK PAGE
Lepley went as far as to offer comment on the case while coaching the West End 13U team in Altoona, Pennsylvania on the Talk Williamsport Facebook page as noted on
Sunday, July 28, 2019, 1:09 p.m.
George E Lepley Jr
This matter was reviewed by law enforcement in Myrtle Beach and found to NOT be appropriate for criminal prosecution.
I don't think you can get anymore independent than that
With the case now being filed in juvenile court the records remain sealed under South Carolina law to shield both individuals referred to in "A Baseball Story in the Birthplace of Little League" as ALLEGED PERPETRATOR #1 and JOHN DOE #1.
The Horry County Solicitor's Office is unable to confirm or deny the validity of this report due to the fact of juveniles being involved in the case.
Due to the nature of the case and the fact it is in Juvenile Court in South Carolina, the process places the case in Lycoming County Family Court for service of the Defendant and potential extradition.
The next potential step in the process could be an extradition hearing to determine if ALLEGED PERPETRATOR #1 will be sent to Horry County South Carolina to be formally adjudicated in that state on the charge as outlined above.
TalkWilliamsport.com has requested comment for this story from WASD Solicitor Fred Holland, WASD Superintendent Dr. Timothy Bowers and WASD Right to Know Law Officer Wanda Erb.
As well as Attorney Jeff Litts, who assisted the WASD last year with RTKL responses and WASD Solicitor Jeff Rowe who previously participated in Right to Know Law mediation with TalkWilliamsport.com.
At the time of this publication none of them have responded.
Lycoming County District Attorney Ryan Gardner has also been contacted for this story and has yet to respond.
This is a developing story on Talkwilliamsport.com.
LINKS TO 25-PART SERIES PUBLISHED BY Talk Williamsport
A Baseball Story In The Birthplace Of Little League Baseball – PART XXV
A Baseball Story In The Birthplace Of Little League Baseball – PART XXIV
A Baseball Story In The Birthplace Of Little League Baseball – PART XXIII
A Baseball Story In The Birthplace Of Little League Baseball – PART XXII
A Baseball Story In The Birthplace Of Little League Baseball – PART XXI
A Baseball Story In The Birthplace Of Little League Baseball – PART XX
A Baseball Story In The Birthplace Of Little League Baseball – PART XIX
A Baseball Story In The Birthplace Of Little League Baseball – PART XVIII
BREAKING NEWS: PA AG Press Office confirms receipt of Criminal Sexual Misconduct referral from DA Gardner
A Baseball Story In The Birthplace Of Little League Baseball – PART XVII
A Baseball Story In The Birthplace Of Little League Baseball – PART XVI
EXCLUSIVE: AG Shapiro press office on referral: "If and when we receive it, it will be promptly reviewed"
A Baseball Story In The Birthplace Of Little League Baseball – PART XVII
BREAKING NEWS: PA AG Press Office confirms receipt of Criminal Sexual Misconduct referral from DA Gardner
UPDATE: Charges filed in Greater Latrobe Junior High hazing case cited in "A Baseball Story"
A Baseball Story In The Birthplace Of Little League Baseball – PART XVI
EXCLUSIVE: AG Shapiro press office on referral: "If and when we receive it, it will be promptly reviewed"
BREAKING NEWS: District Attorney Gardner refers Myrtle Beach case to PA Attorney General – PART XV
A Baseball Story In The Birthplace Of Little League Baseball – PART XIV
A Baseball Story In The Birthplace Of Little League Baseball – PART XIII
A Baseball Story In The Birthplace Of Little League Baseball – PART XII
A Baseball Story In The Birthplace Of Little League Baseball – PART XI
A Baseball Story In The Birthplace Of Little League Baseball – PART X
A Baseball Story In The Birthplace Of Little League Baseball – PART IX
A Baseball Story In The Birthplace Of Little League Baseball – PART VIII
A Baseball Story In The Birthplace Of Little League Baseball – PART VII
A Baseball Story In The Birthplace Of Little League Baseball – PART VI
A Baseball Story In The Birthplace Of Little League Baseball – PART V
A Baseball Story In The Birthplace Of Little League Baseball – PART IV
A Baseball Story In The Birthplace Of Little League Baseball – PART III
A Baseball Story In The Birthplace Of Little League Baseball – PART II
A Baseball Story In The Birthplace Of Little League Baseball – PART I