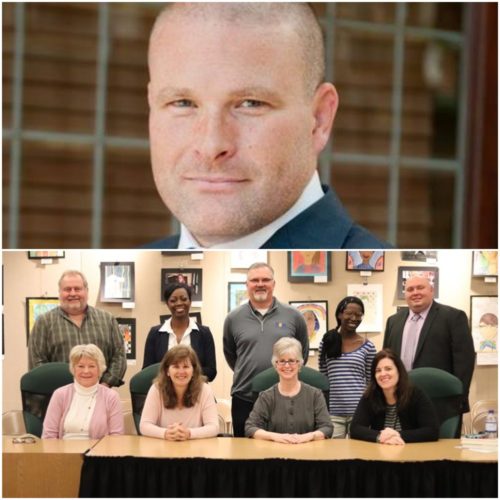 Pictured: (top) Lycoming County District Attorney Ryan Gardner (bottom) Standing from left is Patrick Dixon, Barbara Reeves, Marc Schefsky, Star Poole and Adam Welteroth. Seated from left is President Lori Baer, V.P., Dr. Jane Penman, Dr. Nancy Story Somers and Jennifer Lake.
Todd Bartley, TalkWilliamsport.com
News@TalkWilliamsport.com
Thursday afternoon, TalkWilliamsport.com confirmed with the office of Lycoming County District Attorney; receipt of the Marc Schefsky non-WASD residency complaint emailed by Sheri Crain.
The email demands the immediate removal of non-district resident Marc Schefsky from the WASD school board as well as an inquiry into the voting address used in the November 2020 election.
Fellow WASD school board member Nancy Somers announced her resignation during the Tuesday evening meeting.
Nancy Somers announces resignation at 6:16 p.m. motion made by Jane Penman and seconded by Adam Welteroth. Resignation accepted by an 8-1 vote, Pat Dixon voted no.
When fellow WASD school board member Adam Welteroth last year asked for a second to a motion to "discuss" having an independent third party look into the handling of the 2018 WAHS baseball team trip incidents in Myrtle Beach, South Carolina; Schefsky sat silent.
That silence will echo for eternity.
Since his silence, along with the rest of the WASD school board and administration; Pennsylvania Attorney General Josh Shapiro has taken up the case and it remains under investigation.
Somers knows this because the WASD was served highly publicized search warrants in the case.
As recently as a few weeks ago, ALLEGED PERPETRATOR #1 was charged by Myrtle beach and Horry County South Carolina authorities.
Yet, Schefsky and his fellow WASD board members have taken no action to remove the administrators from their jobs pending the outcome of the Attorney General investigation.
The WAHS baseball coaching staff has been renewed and the team looks like they will play the 2021 season with ALLEGED PERPETRATOR #1 still on the team.
This is a developing story on TalkWilliamsport.com.
"The beginning of the end" – is forthcoming.