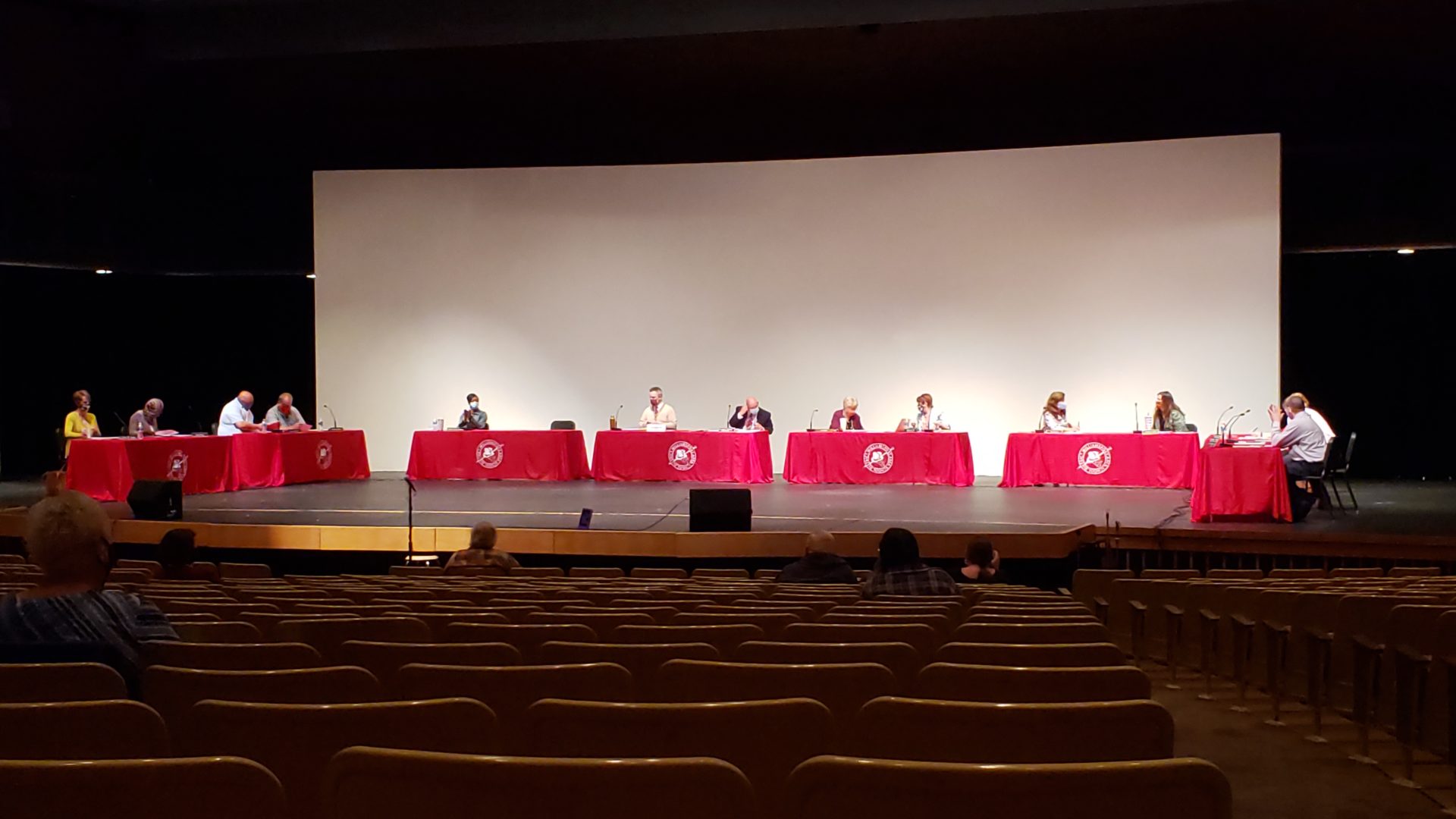 Photo of WASD school board meeting at WAHS Auditorium, Tuesday, April 13, 2021
Todd Bartley, TalkWilliamsport.com
News@TalkWilliamsport.com
The following is an opinion editorial addressing the lack of action taken by WASD school board member, Jennifer Lake .
With the Derek Chauvin murder trial of George Floyd winding down; a grave injustice did not go unnoticed at the WASD school board meeting this past Tuesday night.
On background it is important to note from the "WASD Anti-Racism Board Resolution":
"BE IT RESOLVED that the Williamsport Area School Board, unequivocally stand firm in our collective responsibility to foster an equitable and inclusive environment for every student, staff member, parent, and community member. We commit to use our role as school board directors to recognize, respond, and speak out against injustice and racial inequity in our school community."
As the photo to this story shows, WASD school board member Barbara Reeves sat alone.
Barbara Reeves is black.
Jennifer Lake fellow WASD school board member is white; has told the general public for years has woke she is and even authored an article on "Black Lives Matter".
From, OP-ED: Jennifer Lake Wokebegone – PART III
In fact Jennifer we are approaching the four year anniversary of an article you posted on your own website titled "I'M A WHITE WOMAN RAISING A BLACK SON. HERE'S MY PERSPECTIVE ON BLACK LIVES MATTER." published on July 14, 2016.
Allow me to make a prediction, that post and entire website will soon be coming down and the argument will be to "protect her children and her privacy."
The article and site are still set to private.
Over the past year plus Lake championed the cause of "racism has no home here".
At the October 20, 2020 WASD school board meeting Lake and Reeves sat side by side.
Jennifer Lake, if "Black Lives Matter" and "racism has no home here" why did Barbara Reeves sit alone at the WASD school board meeting?
Only you can answer that; and you will most likely blame the administration for setting up the seats that way.
However, if your woke was not broke, when you noticed Reeves was sitting alone – is when you go to her aid, right?
Or, could it be your woke is just a big joke on this community?
Only you know the truth.
From, OP-ED: Jennifer Lake Wokebegone
Did you mean to say on your personal Jennifer Lake Facebook page on June 1 at 12:14 PM ·
"Behavior Matching is one of the five Engagement Strategies of Trust Based Relational Intervention. It silences the amygdala (which detects threats) and creates felt-safety. When we mirror someone's behavior, posture, thoughts, feelings, and interests, we create togetherness. We create connection.
Behavior matching is a bridge between you and me that says, "I see you. I hear you. You matter."
While considering the "WASD Anti-Racism Board Resolution" last June, Reeves weighed in.
On Wed, June 12, 2020, 1:38 PM Barbara Reeves (REDACTED) wrote:
"Thank you Dr. Bowers for sharing that information. This is a rough one for me. While the statement will not be in support of Black Lives Matter, I hope we can all agree that black lives matter!!!
This is just a time that people of color need the world to acknowledge that they value their lives. This is especially true for colleagues, friends and acquaintances.
We are talking about a people who were considered as 3/5 of a person.
How long should it take to gain the respect of the other 2/5 that makes a whole.
It's not enough to be colorblind because that means that you do not see me!"
The only question is, Jennifer Lake, what happened, where were you?
WASD Superintendent, Dr. Bowers has already provided the mechanism for his resignation, IN HIS OWN WORDS.
Maybe Jennifer Lake will join him after Bowers previously shared this text with your Tuesday night table mate;
Bowers supplements his response to Jane Penman:
"In my opinion our actions are more impotent (important) than our words."
That quote came from the text message records of Dr. Timothy Bowers on Thursday, June 11, 2020, either 6:03 PM or 8:03 PM between WASD school board members Jane Penman and Lori Baer as noted in "The anatomy of the WASD Anti-Racism Board Resolution" – PART I.
Penman is not seeking reelection in the May primary election.
Since Jennifer Lake failed to sit with Barbara Reeves at the meeting this past Tuesday; again missing a moment to demonstrate her devotion to the cause – she must resign, immediately.
Jennifer Lake, based on the "WASD Anti-Racism Board Resolution" you had a strong role in authoring and  volunteered to read into the record; Barbara Reeves demands your resignation for failing her on Tuesday.
This is a developing story on TalkWilliamsport.com.
Previous article links:
The anatomy of the WASD Anti-Racism Board Resolution – Part I
The anatomy of the WASD Anti-Racism Board Resolution – Part II
The anatomy of the WASD Anti-Racism Board Resolution – Part III
The anatomy of the WASD Anti-Racism Board Resolution – Part IV
The anatomy of the WASD Anti-Racism Board Resolution – Part V
OP-ED: Jennifer Lake Wokebegone – PART V
OP-ED: Jennifer Lake Wokebegone – PART IV
OP-ED: Jennifer Lake Wokebegone – PART III
OP-ED: Jennifer Lake Wokebegone – PART II