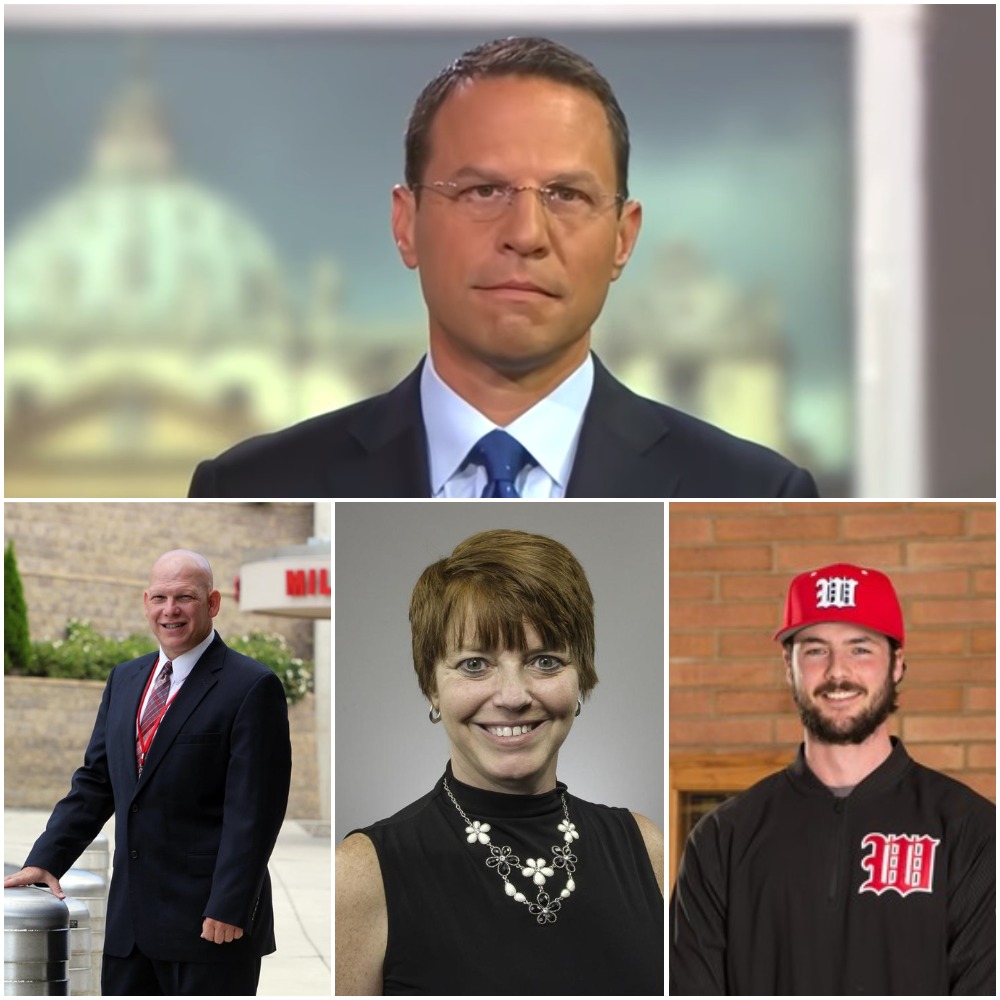 Attorney General Josh Shapiro (top), Dr. Timothy Bowers, WASD Superintendent (bottom left)
Wanda Erb, WASD RTK Officer (bottom middle) and WAHS Head Baseball Coach Kyle Schneider (bottom right)
The following is the result of a more than 18-month long investigation
by Talk Williamsport into the Williamsport Area High School Baseball Team trip
to Myrtle Beach, South Carolina in the spring of 2018.
This story is graphic and contains details related to multiple indecent sexual assaults.
The author and editor of this story have made the editorial decision to not publish the names of the individuals under the age of 18 at the time of the incident who have been clearly identified as committing these acts in this case since they have not been formally charged with a crime.
A Baseball Story In The Birthplace Of Little League Baseball
IF NOTHING HAPPENED IN MYRTLE BEACH
WHY WON'T THE WASD TELL US THE STORY?
PART XVII
By Todd Bartley, Talk Williamsport
News@talkwilliamsport.com
IS HAZING THE NORM IN THE WASD?
This topic was covered in PART VIII of this series. The similarities in the alleged behaviors engaged in by the fraternity brothers in the aftermath of the unfortunate incidents that unfortunately claimed the life of Timothy Piazza have a striking resemblance to this case.
Piazza was a fraternity pledge at Penn State and those involved in the hazing case were criminally charged, subsequently sentenced and have also been sued in federal court.
Penn State was also named as a defendant in civil litigation and swiftly reached an out of court settlement with the Piazza family as Pulitzer Prize winning author and current CNN correspondent Sara Ganim filed in this report on February 2, 2019.
Tom Kline, founding partner of Kline & Specter represents the Piazza family and obtained the undisclosed monetary settlement with Penn State.
From the Ganim report on CNN, "The university also pledged $2 million and help raising money to help it become a national Greek life research center, according to a university statement."
Attorney David Inscho of the firm Kline & Specter represents JOHN DOE #1 and his family in the case chronicled in this series.
Inscho was reached for this story and offered the following, "We understand the criminal investigation into the assault against our client has been referred to the state attorney general's office.  We hope that this will result in the full and complete investigation warranted by the assault. We have been willing to and will continue to assist in any investigation that seeks to uncover the facts and hold the perpetrators responsible."
Since the e-mail disclosure by WASD Solicitor Fred Holland of "indecent and inappropriate behavior" in response to a question posed by FSW in 2018, none of the facts in this case elicited from this report has changed.
What continues to change on a nearly daily basis is the response from the WASD.
So the fundamental question remains posed in the series A Baseball Story In The Birthplace Of Little League Baseball; if nothing happened in Myrtle Beach, why won't the WASD tell us the story?
PLAUSIBLE ANSWERS
If the WASD tells us what happened in Myrtle Beach, a number of people will face real world consequences.
Everyone involved would face potential criminal liability.
Based upon state laws passed in the wake of the Jerry Sandusky case; it could cost everyone involved their pensions.
With the existing anti-hazing laws already on the books in 2018 then bolstered by the death of Timothy Piazza make the possibility of more severe punishments for those involved more likely.
A civil lawsuit being filed against the WASD and all parties involved by JOHN DOE#1 who is being represented by Kline & Specter is a near certainty.
The videos of the alleged incidents in Myrtle Beach, South Carolina which were shared across multiple social media platforms – do not lie.
The cell phone records of everyone on the trip and those communicating with those on the trip also do not lie.
These are all plausible answers to why the WASD never wanted this incident to see the light of day.
LACK OF PROBITY
The credibility of the radio show caller referenced in PART XVI reaffirmed the assertions in this series that nearly everyone on the trip in Myrtle Beach knew what happened to JOHN DOE #1 in the immediate moments, hours and days remaining on the trip.
To believe otherwise as the WASD has tried to make the public do, reason and disbelief must be suspended.
The lack of transparency and forthrightness in the WASD RTK responses is devastating to our community in how the public trust was violated.
Dr. Timothy Bowers, WASD Superintendent (bottom left), as the Talk Williamsport story began to develop in 2018 silenced Fred Holland, as noted in PART III.
No citation of federal laws, no student privacy concerns were ever cited as Holland was muted.
Just stop talking to Talk Williamsport was the edict from Dr. Bowers.
This in and of itself is grounds for Dr. Bowers to be removed from his position as Superintendent.
To date, the WASD School Board has failed to take any action in this matter beyond burying its collective head in the sand, hoping this too will just go away.
Remember, the WASD wants the general public to believe former Lycoming County Chief Detective Willie Weber brought this case to their attention after a Child Line call was placed on May 18, 2018.
Then Weber waited five months to file an actual report; at the request of the Myrtle Beach Police Department whom he and Brandon Pardoe never called.
The same Myrtle Beach Police Department that holds jurisdiction of the assault case in question.
Wanda Erb, WASD Right to Know Officer (bottom middle), provided the written responses to Talk Williamsport on behalf of the district.
The story she attempted to piece together was so woefully incompetent, she placed former WASD administrator Randy Zangara in Myrtle Beach at the time of the trip, in writing.
Does that amount to perjury?
Zangara was so willing to clear his name of any wrong doing he refused comment for previous installments of this series.
As this series has also outlined, he was present at a WAHS game at Bowman Field that he and Miller showed up to intoxicated.
With Erb placing him physically in Myrtle Beach, it appears he was talking to those on the trip regularly from Williamsport based on records obtained by Talk Williamsport through the RTK Law requests.
Were those conversations about baseball or something else?
In the aftermath of WAHS Baseball Coach Ryan Miller stepping down for family reasons, then WAHS Baseball Assistant Coach Kyle Schneider (bottom right) was named as the interim coach.
Schneider was later promoted to WAHS Head Baseball Coach; a position he holds today even though the 2020 season was not played due to coronavirus concerns.
Was Schneider promoted in order to keep the WAHS baseball team secret intact?
Former head coach Ryan Miller and Schneider as previously noted were roommates in Myrtle Beach.
Was Schneider comfortable with no room list?
Was Schneider comfortable with no adult chaperones?
Where did he go as Miller and Worthington went to the aide of the unknown female on the beach?
So many unanswered questions.
Rhetorically speaking, what is more contagious in the WAHS Baseball program, spreading of a false narrative to protect a brand or coronavirus?
DOES ERB EVEN CARE TO KNOW WHAT HAPPENED IN MYRTLE BEACH?
According to the
WASD Wanda Erb Affidavit 10-8-19
obtained by FSW in response to RTK mediation efforts on October 8, 2019, Erb offered the following within response #8
,:
"As for Ryan Miller, Alicia Carnevale, David Heller, Kyle Schneider and Nick Caringi, I reviewed the text messages then existing on their phones, with their assistance. The only message responsive to the request was found on Mr. Heller's phone and was disclosed in the Agency's repsonse.
Tariq Moore did not respond to efforts to contact him until after the Agency sent its response. His phone is neither owned nor paid for by the district and was not reviewed. Joel Worthington never responded to my efforts to contact him. His phone is neither owned nor paid for by the district and was not reviewed.
FSW is curious to this particular phraseology, "then existing on their phones, with their assistance", so Erb did not ask Verizon to produce the unedited or deleted messages, just the parties involved while they watched.
Would those phones, texts and photos be of any interest to Attorney General Josh Shapiro who may now be investigating this matter as his office investigated the Piazza matter?
It will be fascinating if he finds any messages or information beyond the one and only text Erb noted as: "responsive to the request".
Apparently, no one communicated what bar or restaurant they would be eating at in Myrtle Beach the entirety of the trip.
Just that one text between two assistant coaches in mid-June 2018.
This community may never know since Wanda Erb did not really seem to care if any answers were provided, other than, well at least I tried.
This is they same type of nonsense the WASD wants the general public to believe in how it ran an investigation on itself.
In cases like this, the investigators who work for Attorney General Josh Shapiro live for ineptitude of this magnitude.
RYAN MILLER WAS RESPONSIBLE FOR THE WAHS BASEBALL TEAM IN MYRTLE BEACH
In the WAHS responses to the RTKL requests from FSW, the narrative has been quite clear; throw Miller and McCann to the wolves to protect Brandon Pardoe and George Lepley.
Lepley is the attorney of record for ALLEGED PERPETRATOR #1.
Ryan Miller is listed as Head Coach on the Mingo Bay Baseball Classic Tournament WAHS MB Tournament Agreement 2018, it is co-signed by WAHS Principal Brandon Pardoe and WAHS Athletic Director Sean McCann on June 14, 2017.
The name Ryan Miller appears on the Atlantica Resort Atlantica Resort Receipts 3-14-18 for the rooms the players and staff stayed in.
Ryan Miller paid for those rooms with a credit card as previously reported in this series.
The planning for the trip lasted more than a year and to date, a room list has yet to be produced.
To further illustrate the disconnect Miller has with the fact that "criminal sexual misconduct" occurred; Lycoming County District Attorney Ryan Gardner referred this matter to PA Attorney General Shapiro for consideration.
Ryan Miller will never escape the fact he was the head coach of a baseball team that he was responsible for when the assault of one of his players occurred.
To add insult to injury, he is unable to even tell us what room he, his girlfriend, assistant coaches or any of his players including the victim, stayed in.
BACK TO ERB AND HER LACK OF PROBITY
Did Miller and Carnevale share with Wanda Erb as they reviewed their phones with her; they were in the same suite as Schneider and Worthington?
This fact is admitted to by Miller in his lawsuit against FSW and other defendants.
Would that fact alone lead Erb to call Verizon for all of the messages on both phones?
What was being in the same suite with Coach Miller and Alicia Carnevale even like for Schneider and Worthington?
Keeping in mind, it has been admitted to by Miller and Carnevale they were in a consenting sexual relationship that resulted in a child and the subsequent resignation by Miller as head coach for "family reasons."
Or could Schneider and Worthington or Miller and Alicia Carnevale shed light on the possibility they changed rooms and hotels all together?
Would any text messages exist speak to long nights at local bars in Myrtle Beach?
Did Carnevale bother to volunteer to Erb or anyone else Schneider was her cousin?
As all this is going on, does anyone know where the players are or what rooms they are in?
TIME ON THE SIDE OF JOHN DOE#1 AS A SEX CRIME VICTIM IN CRIMINAL & CIVIL FILINGS
According to the criminal victim advocate web site; "Sexual violence." Rape, indecent contact as defined in 18 Pa.C.S. §3101 (relating to definitions), incest or using, causing, permitting, persuading or coercing the child to engage in a prohibited sexual act as defined in 18 Pa.C.S. §6312(a) (relating to sexual abuse of children) or a simulation of a prohibited sexual act for the purpose of photographing, videotaping, depicting on computer or filming involving the child.
According to an online search of the Pennsylvania Statutes of Limitations in both Criminal cases and Civil Lawsuits for Sexual Abuse; in regard to filing in either instance time is on the side of the victim.
A civil lawsuit may be filed against the abuser or an organization (such as a church, school, or workplace) that allowed the abuse to occur. A victim of sexual abuse can demand compensation for his or her economic and non-economic damages, including pain and suffering.
In Pennsylvania, the filing of a civil claim dealing with sexual abuse must be commenced at any time within:
Two years of the abuse, if the victim is an adult, or
12 years from the victim's 18th birthday (if the victim was a minor at the time of the sexual abuse).
Again, proposed legislation would dramatically change these statutes of limitations and could even re-open time-barred child abuse claims.
Criminal Cases for Sexual Abuse
In order to prosecute a sexual abuser, you must file a report with law enforcement. Criminal sexual abuse cases are filed by the State of Pennsylvania on behalf of a victim. A suspect may face jail time, sex offender registration, and other penalties, if guilty. 
In Pennsylvania criminal cases, a prosecutor may file charges of child sexual abuse anytime before the victim's 50th birthday. All other sexual assault and abuse charges involve a 12-year statute of limitations.
Additionally, there is a DNA evidence exception to the SOL. If a perpetrator is identified by DNA evidence after the statute of limitations has expired, a prosecutor may still file criminal charges within a year of a suspect's identification.
Is this why Detective Weber waited five months to file a formal report once the MBPD asked for one?
Is this why Detective Weber characterized the incident as a "prank".
TALK WILLIAMSPORT REPORTING HAS BEEN PROVEN CORRECT – TIME & TIME AGAIN
Talk Williamsport was the first to report the family of JOHN DOE#1 was seeking legal counsel.
Kline and Specter now represent JOHN DOE#1 and have sent letters to parties involved including the WASD in a potential civil case.
As first reported by Talk Williamsport, a criminal act occurred in Myrtle Beach, South Carolina.
How did Talk Williamsport know?
WASD Solicitor Fred Holland said so when he called it "indecent and inappropriate behavior."
As the bombshell report in PART XV of this series outlined, Lycoming County District Attorney Ryan Gardner referred the case to Pennsylvania Attorney General Josh Shapiro for consideration.
Prior to receiving the referral Talk Williamsport contacted the press office of Pennsylvania Attorney General Josh Shapiro for comment on the referral and received the following response.
"We have not yet received a referral. If and when we receive it, it will be promptly reviewed."
Shapiro subsequently confirmed receipt of the referral and declined further comment.
PART XVIII is forthcoming.
LINKS TO 17-PART SERIES PUBLISHED BY Talk Williamsport
A Baseball Story In The Birthplace Of Little League Baseball – PART XVII
BREAKING NEWS: PA AG Press Office confirms receipt of Criminal Sexual Misconduct referral from DA Gardner
UPDATE: Charges filed in Greater Latrobe Junior High hazing case cited in "A Baseball Story"

A Baseball Story In The Birthplace Of Little League Baseball – PART XVI
EXCLUSIVE: AG Shapiro press office on referral: "If and when we receive it, it will be promptly reviewed"
A Baseball Story In The Birthplace Of Little League Baseball – PART XVI
EXCLUSIVE: AG Shapiro press office on referral: "If and when we receive it, it will be promptly reviewed"
A Baseball Story In The Birthplace Of Little League Baseball – PART XV
A Baseball Story In The Birthplace Of Little League Baseball – PART XIV
A Baseball Story In The Birthplace Of Little League Baseball – PART XIII
A Baseball Story In The Birthplace Of Little League Baseball – PART XII
A Baseball Story In The Birthplace Of Little League Baseball – PART XI
A Baseball Story In The Birthplace Of Little League Baseball – PART X
A Baseball Story In The Birthplace Of Little League Baseball – PART IX
A Baseball Story In The Birthplace Of Little League Baseball – PART VIII
A Baseball Story In The Birthplace Of Little League Baseball – PART VII
A Baseball Story In The Birthplace Of Little League Baseball – PART VI
A Baseball Story In The Birthplace Of Little League Baseball – PART V
A Baseball Story In The Birthplace Of Little League Baseball – PART IV
A Baseball Story In The Birthplace Of Little League Baseball – PART III
A Baseball Story In The Birthplace Of Little League Baseball – PART II
A Baseball Story In The Birthplace Of Little League Baseball – PART I